Spellbinding Mystery by Pragmatic Play: Where Magic Meets Fortune!
Pros
High-quality visuals and immersive gameplay create a captivating experience
Engaging wild multipliers can significantly boost winnings
Free spins and Mystery symbols add an extra layer of excitement and potential rewards
Multiple RTP models provide a degree of flexibility
High maximum winning potential of up to 10,000 times the bet
Cons
The 7x7 grid and block combination mechanic may take some getting used to for new players
Players who prefer traditional pay lines might find the gameplay complex
Step into a mesmerizing world of sorcery with Spellbinding Mystery, a thrilling 7×7 grid slot game conceived and crafted by the highly regarded software creator, Pragmatic Play. This game is a real treat for virtual casino fans with its exceptional visuals, engaging gameplay, and abundant rewards.
Unravel the Magical Mystery with Spellbinding Mystery
This online slot adventure transports you into an enchanting realm filled with mystical elements and magic. Each spin discloses a fascinating possibility, where the allure of winning intertwines with the excitement of suspense. Let's journey into the magical vortex of Spellbinding Mystery.
Visual Spectacle by Pragmatic Play
The digital architects at Pragmatic Play, the brilliant minds behind this online slot game, are celebrated for their top-tier games that provide memorable player experiences. The intriguing wizard character and magical tokens in Spellbinding Mystery spring to life during gameplay, offering a visually rich and interactive gaming journey.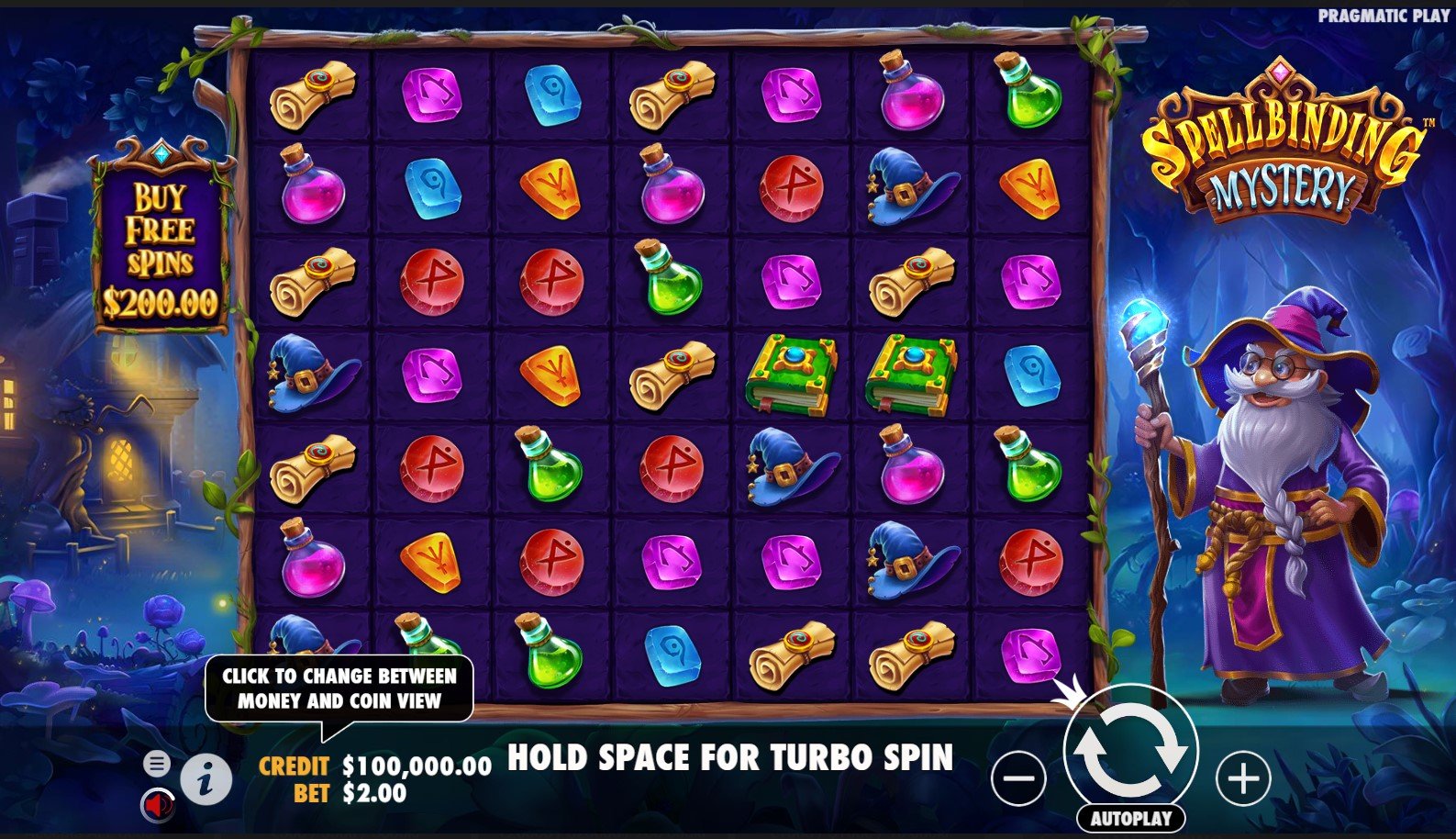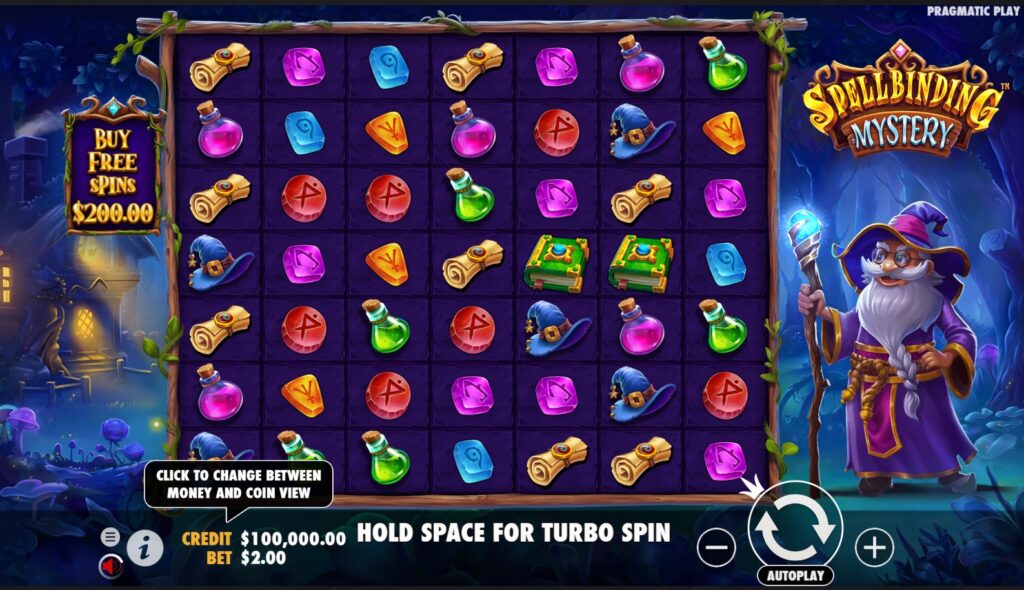 Compelling Gameplay & Alluring Features
Spellbinding Mystery is loaded with compelling gameplay components and enticing features that make each spin a riveting affair. The symbols, from enigmatic rune-like tokens and mysterious potion bottles to magical hats, scrolls, and a vibrant green grimoire, are meticulously designed to enhance the game's magical allure. Furthermore, with a Return to Player (RTP) of up to 96.04%, this game guarantees plentiful winning opportunities.
Enchanted Symbols: Hitting a minimum of seven connected symbols in a row or column sets off a profitable payout. The enchanting symbols are visually captivating and contribute to the overall immersive ambience.
Wild Multipliers: The wild symbol in Spellbinding Mystery possesses a unique potency. It replaces any regular pay symbol and bears a random multiplier from x1 to x5. This multiplier applies to all combos it forms, amplifying your winnings.
Mystery Symbols & Bonus Spins: The game also introduces Mystery and scatter symbols that add an extra layer of exhilaration to the gameplay. All star Mystery symbols visible on the grid transform into the same symbol type at the end of a spin. Moreover, hitting three scatter symbols launches the bonus spins round, presenting players with escalated winning potential.
A Magical Verdict on Spellbinding Mystery
Despite its seemingly uncomplicated gameplay, Spellbinding Mystery enthralls players with its abundant features and mesmerizing theme. The game's wild multipliers, bonus spins, and Mystery symbols offer a winning potential of up to 10,000 times the stake. While it might not spearhead innovative mechanics, it employs its existing gameplay elements effectively to deliver a pulsating gaming experience.
Mystical Gameplay for Every Slot Fan
To sum up, Spellbinding Mystery is a mystifying grid slot that presents an irresistible mix of captivating gameplay and rewarding outcomes. It may not boast an extensive array of features, but it artfully employs its present attributes to create a game that's both enjoyable and potentially lucrative. Whether you're a lover of the arcane, an experienced slots player, or a newcomer stepping into the vibrant universe of online slots, Spellbinding Mystery is a game that's truly worth exploring. Embark on this magical quest today and let the enchantment begin!