Halloween Theme Online Slot Machines, 2021:
Top 5 Thrilling Online Casino Games
Halloween season is in full swing, and what is the scariest thing for you? Are you afraid of zombies, ghosts, or vampires? Owl hooting or bat wings sound? Spiders or fantastic beasts? I am thrilled about wasting my time and money with the wrong Halloween-themed online slots. The opportunity to gamble slots with poor graphics and gameplay curdles my blood. Low chances to win real money spook me much.
If you have the same fears, let me share some useful things with you. Below you can find a list of high-rated and the most Halloweenly exciting online slots offered by the best slot providers. I prepared a description of each slot I tried and was pleased by. So, I got a collection of really thrilling pumpkin season slot machines. Don"t be afraid, you won"t be disappointed by a dishonest or a dull play.
I also noticed a return-to-player (RTP) rate for each slot. The online slot payment rate defines how much of the wagered funds will be paid back in the form of winnings. 95% RTP means that a particular slot machine pays out $0.95 for every $1 spent by gamblers. Online slots with 95 – 97% of payouts are considered to be a good choice (progressive jackpot slots are decent with about 85% RTP ). RTP should be counted over a while because not every spin brings the winnings. RTP for a particular player may range from zero to much higher than 100%. Because some stop gambling before they start to win, and some hit the jackpot.
Don't be scared to try your luck with the spookiest online slots listed below – they are safe and lucrative as well.
Pumpkin Smash by Yggdrasil, 96.2% RTP
Yggdrasil suggests you celebrate Day of the Dead instead of Halloween playing its Pumpkin Smash slots. Spanish melodies, the mood of fiesta, and sugar skulls in sombreros on the paylines – that is Pumpkin Smash. And, of course, bonus game pumpkin symbols that bring incredible prizes. The game is nicely designed and animated. There are two modes you can choose from: Pumpkin Smash bonus mode or Free Spin mode with symbol multipliers.
Pumpkin Smash Symbols, Winning Combinations and Payouts
Collect at least 3 regular symbols – skulls in sombreros or card suits – to make a win.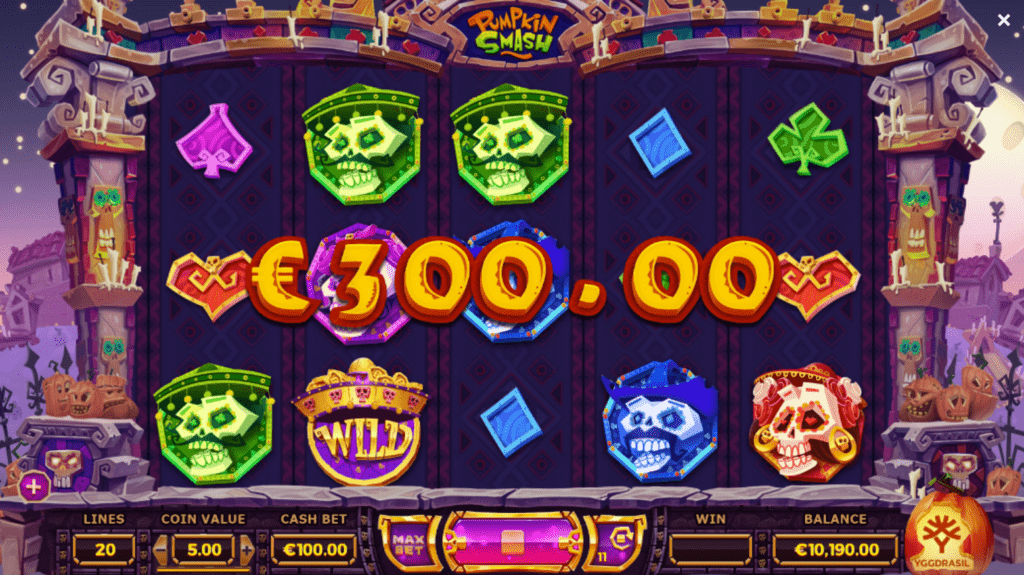 The biggest possible win is € 180, 000.
Bonus symbols are Pumpkins, and their combinations differ in two available game modes.
Pumpkin Smash Bonus Features
2 to 5 Pumpkins in bonus mode and 1 to 5 Pumpkins in free spin mode will bring you up to 20 prizes: free spins, multipliers and coins. Two game modes differ in the amount of gifted coins, spins and multipliers. 
Where to Play Pumpkin Smash for Real Money
The best Pumpkin Smash casinos include:
Muerto en Mictlán by Play'n GO, 96.2% RTP
Muerto en Mictlán, released by Play'n GO in 2021, is the newest way to celebrate Halloween in a style of Spanish romance and mystery. This game is esthetically pleasing. Card suits symbols are designed with sophisticated ornaments. The colors are mysteriously soft and shiny, and the background music is a beautiful Spanish-alike melody.
Muerto en Mictlán Symbols, Winning Combinations and Payouts
You can win up to 10000 times higher your entire stake playing Muerto en Mictlán online slot. Muerto en Mictlán is a 5-reel slot game with 10 fixed paylines.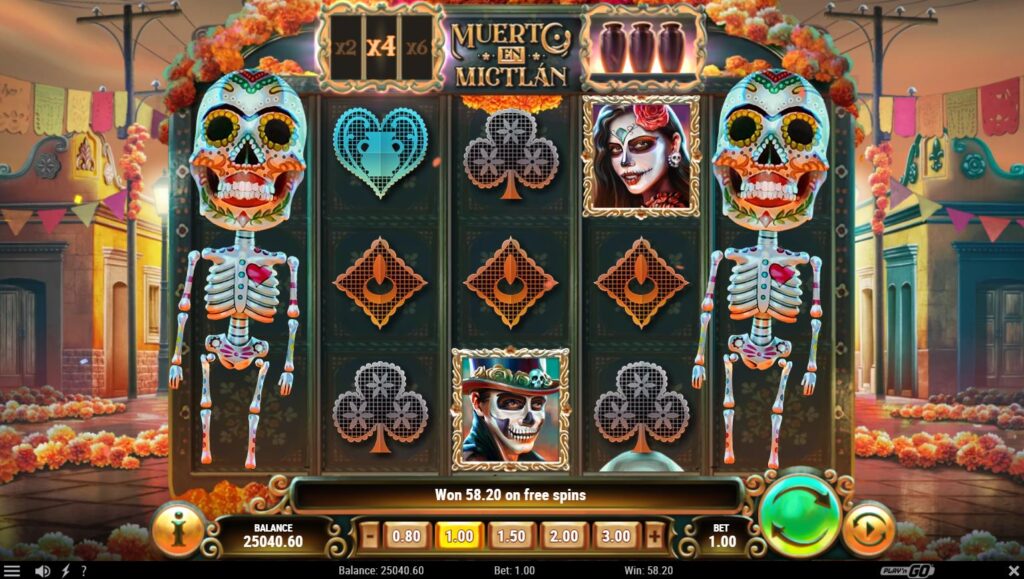 Regular symbols:
— 4 high pay symbols of a rose, a hat, a man with a skull-painted face and a woman with a skull-painted face
— 4 low pay card suits
Collect at least 3 regular symbols to make a win.
There are also bonus Scatter and Wild symbols. The last ones replace all symbols despite Scatters to form a winning combo. All bonus features are activated by at least 3 Scatters.
Muerto en Mictlán Bonus Features
Free spins are activated by Scatters. There are 4 levels of free spins, each of them gives 5 free spins. So, the maximum number of free spins you can get is 20 for a whole free spins session.
1st level is initiated by landing at least 3 Scatters.

2d level is reached by collecting 5 Scatters.

3d level starts after getting a further 6 Scatters (11 in total).

4th level is reached by gathering a further 7 Scatters (18 in total). No more Scatters will land on the 4th level.
On entering the first three levels of Muerto en Mictlán free spins you can choose a Wild feature – Sticky, Expanding, Exploding, or Walking. Once a Wild feature has been chosen, it becomes unavailable for the next levels. Only one Wild feature is active on any level. Sticky Wilds will stay on the grid for the remainder of the current free spin level. Expanding Wilds will expand on the whole reel when landing and will blow up to 2×2 size on the grid when landing. Walking Wilds will stay on the reel for the active level and move to the left on every spin, falling off from the first reel.
Multipliers can accidentally activate on any spin. They are also upgraded during free spins. Basically, there are x1, x2 and x4 multipliers. During free spins multiplier improves to x2, x4, x6 at the 2d level, to x3, x6, x10 at the 3d level and to x4, x10, x30 at the 4th level.
Where to Play Muerto en Mictlán for Real Money
The best Muerto en Mictlán casinos include:
Immortal Romance Mega Moolah by Microgaming, 86.73% RTP + Progressive Jackpot
Two legendary gambling products in one by a legendary Microgaming game developer. Immortal Romance is a mysterious story of Amber, Troy, Sarah and Michael that happens in an atmosphear of fear and looming threat. If you want something really scary, the Immortal Romance online slot will be a very good choice. And if you want something Halloweenly thrilling, that will be the best choice – thanks to the Mega Moolah Jackpot addition. The opportunity to win several million jackpot thrills a lot!
Immortal Romance Mega Moolah Symbols, Winning Combinations and Payouts
Immortal Romance Mega Moolah is the newest version of the Immortal Romance series, released in 2021. You can win up to 12000 times higher your stake.
Regular symbols include the portraits of Amber, Troy, Sarah and Michael, symbols of a castle and a chamber, and playing cards denominations.
There are also Wild and Scatter symbols that lead you to many sophisticated bonus features.
Immortal Romance Mega Moolah Bonus Features
Wilds multipliers replace all symbols except Scatters and double the payout of combinations they complete. 3 or more Wilds also form their own winning combos that are not multiplied.
2 or more Scatters make their own winning combos and also lead to a specific bonus feature – a Chamber of Spins.
Chamber of Spins is a feature awarded for 3-5 Scatters. If you enter the Chamber consequently 5 times, you will start another bonus game with more free spins.
Wild Desire is a bonus game that you may activate randomly. This feature turns up to 5 reels into wild ones.
Amber bonus gives you 10 free spins, and all payouts are 5 times multiplied during the free spins session.
Troy bonus awards 15 free spins and a Vampire Bat feature. This feature turns symbols into 2 or 3 times multipliers.
Michael bonus gives 20 free spins with Rolling Reels. Rolling Reels can multiple consequent wins 2-5 times.
Sarah bonus awards 25 free spins with the Wild Vine feature. Wild Vine symbol, that appears on the 3d reel, turns up to 15 symbols into Wilds. Also, if 2-5 Scatters appear during Sarah bonus game, you win 1-4 extra free spins. 
Mega Moolah Progressive Jackpot bonus game allows you to win Mini, Minor, Major or Mega progressive jackpot. You spin the wheel with Mini, Minor, Major or Mega segments. This feature is activated randomly. The progressive jackpot is funded by 5.30% of players' wagers. 
By the way, Microgaming's Mega Moolah is one of the most famous jackpots. In 2018, €18.9 Mega Moolah jackpot broke the Guinness World Record as the biggest ever online slot jackpot.
Where to Play Immortal Romance Mega Moolah for Real Money
The best Immortal Romance Mega Moolah casinos include:
Pumpkin Power by Novomatic's Greentube, 95.19% RTP
Greentube belongs to Novomatic holding – a slot machines producer with a long history that started in 1980. Greentube's Pumpkin Power online slot is themed in a traditional Halloween style with witches and candles, black cats and haunted houses. And, surely, with powerful pumpkins that bring terribly big prizes. The gameplay is quite simple but still dreadfully exciting.
Pumpkin Power Symbols, Winning Combinations and Payouts
There are regular symbols such as playing cards denominations, black cats, candles and haunted houses. There are also Scatters and Wilds.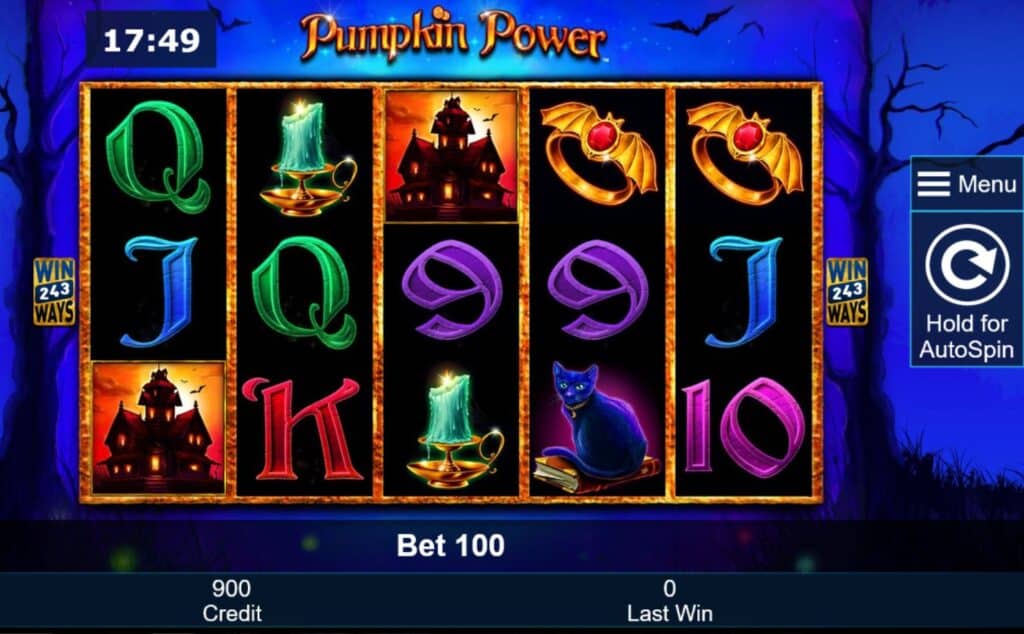 Wild symbol is represented by a Witch that replaces all symbols, except Pumpkin. Pumpkins initiate Free Games feature.
Pumpkin Power Bonus Features
Free Games bonus is gifted for 3 Pumpkins that land on the 1st, 3d and 5th reel. You get 12 free spins as a prize. During free spins session you can activate a dice. The dice appears if a Pumpkin lands on the middle reel. The dice stops on one of the symbols and shows 3,4 or 5. This digit defines the amount of your win. For example, if you roll a 3 with the dice landing on the Candle symbol, your prize will be equal to the winnings for a 3 Candle combo.
If the dice appears on a Pumpkin symbol, you will win a corresponding amount of Free Games.
Where to Play Pumpkin Power for Real Money
The best Pumpkin Power casinos include:
Halloween Jack by NetEnt, 96.28 RTP
Do you remember a legend about Jack who cheated the Devil twice? NetEnt's Halloween-themed slot is surprisingly… about a girl. She found a cursed jewelry box that brings not only evil but also great bonuses to a slot player. And the soul of Drunk Jack appears in the eyes of Pumpkin symbols and in Lanterns that promise a big win.
Halloween Jack Symbols, Winning Combinations and Payouts
There are 10 Halloween Jack regular symbols:
5 high pay pictures of a girl, a horse, a bat, a crow and a horseshoe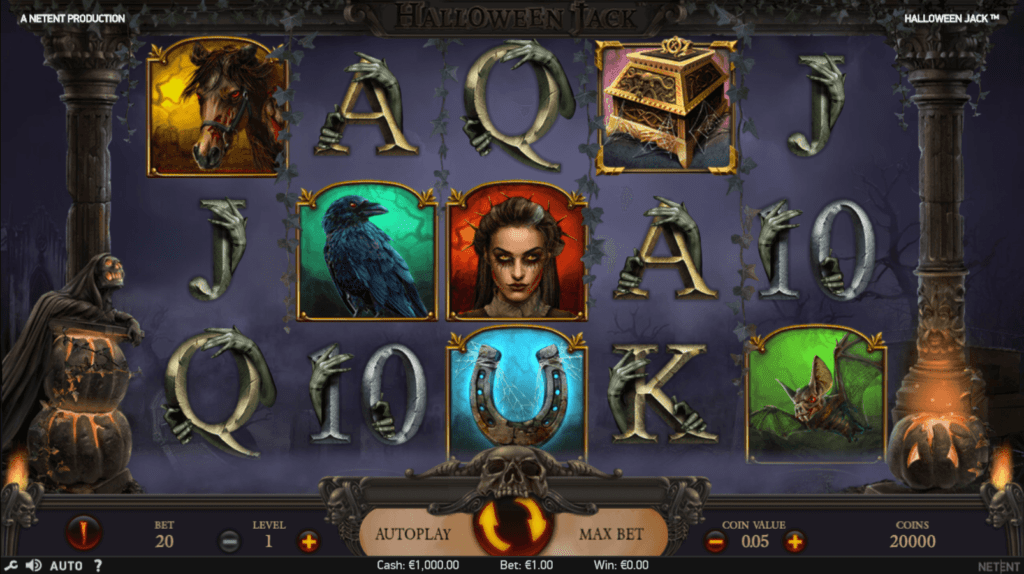 5 low pay playing cards from 10 to Ace
There are also Scatters represented by jewelry boxes, Wilds that appear as Halloween pumpkins and Lanterns that activate special features.
Wilds substitute for all symbols except scatters and Lanterns and multiply the win by 3 times. They appear on all reels except the 1st reel. Wilds land only on 2-4 reels during re-spins in both the main game and free spins period.
Halloween Jack Bonus Features
10 Free spins are gifted to you after at least 3 Scatters appear anywhere. Then, you can get 5 more free spins, if 3 or more Scatters appear during your free spins play.
The Walking Wild Feature is initiated by Wilds in both the main game and free spins session. 
When a wild Pumpkin appears on the reel, a Re-Spin is awarded. During the Re-Spin Pumpkin moves one reel to the left. The Re-Spin mode is finished when there are no Wilds left on the reels.
Jack'o'lector Feature is activated by Lanterns that land on the 5th reel during free spins. 3 Lanterns turn into a 2 symbols high Stacked Hell Hound Wild and 6 Lanterns turn into a 3 symbols high Stacked Jack-o-lantern Wild. You can also collect 9 Lanterns, and the next Wild landing on the reels will turn into Expanding Death Reeper Wild. Stacked symbols also activate a Re-Spin.
Where to Play Halloween Jack for Real Money
The best Halloween Jack casinos include:
We wish you spend the most exciting time playing Halloween slots and gain horribly big winnings!