Rocket Blast Megaways offers a cosmic slot experience with innovative features, transporting players on a winning journey through the stars.
Pros
Unique and engaging space theme
Offers both high pay and low pay symbols for diverse winning opportunities
Introduces the innovative Rocket feature
Increasing multiplier during free spins enhances potential winnings
A broad betting range, catering to both low and high rollers
RTP is fairly decent, especially with the bonus round purchase
Cons
Many features might feel familiar to regular slot players
Volatility might not suit all players – some might find the game too unpredictable
When one thinks of rockets, Neil Armstrong's historic landing on the moon might come to mind. Yet, while we've not surpassed that giant leap for humankind in over six decades, we've brought the universe a tad closer through games that spark imagination. Enter Rocket Blast Megaways, a slot sensation from Pragmatic Play that offers punters a celestial interaction with otherworldly beings.
Setting and Design: A Galactic Voyage
Space, with its immeasurable vastness, casts a backdrop of mystery for Rocket Blast Megaways. Could the setting be in our own Milky Way or in another galaxy lurking behind our telescopic view? The game grid is embellished with extraterrestrial symbols, set against a canvas of shooting stars, swirling nebulas, and countless stars. A fusion of Rick & Morty vibes with an extra dose of funk is felt thanks to the upbeat, electrifying soundtrack.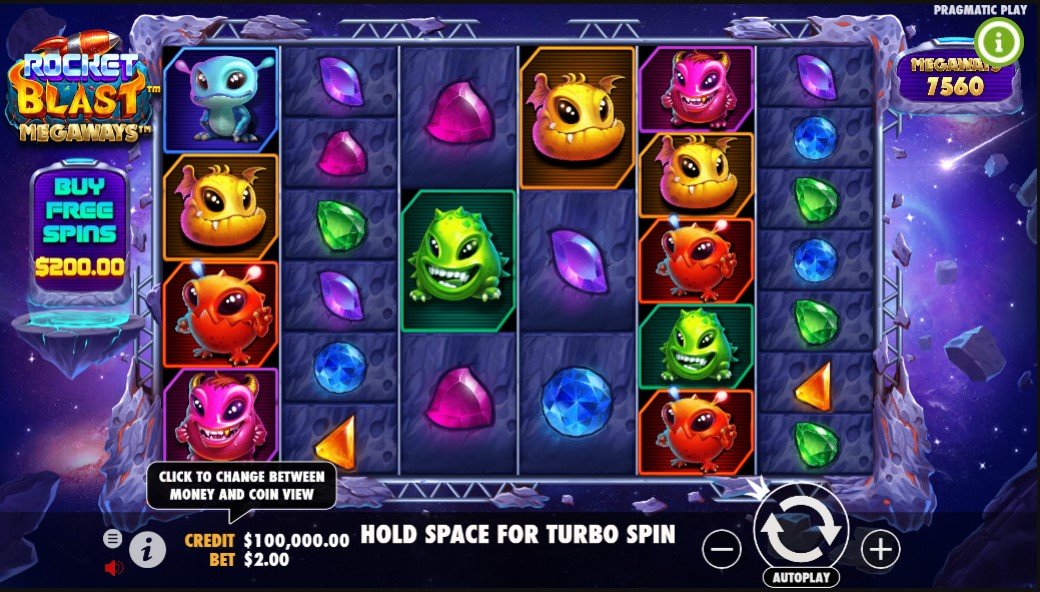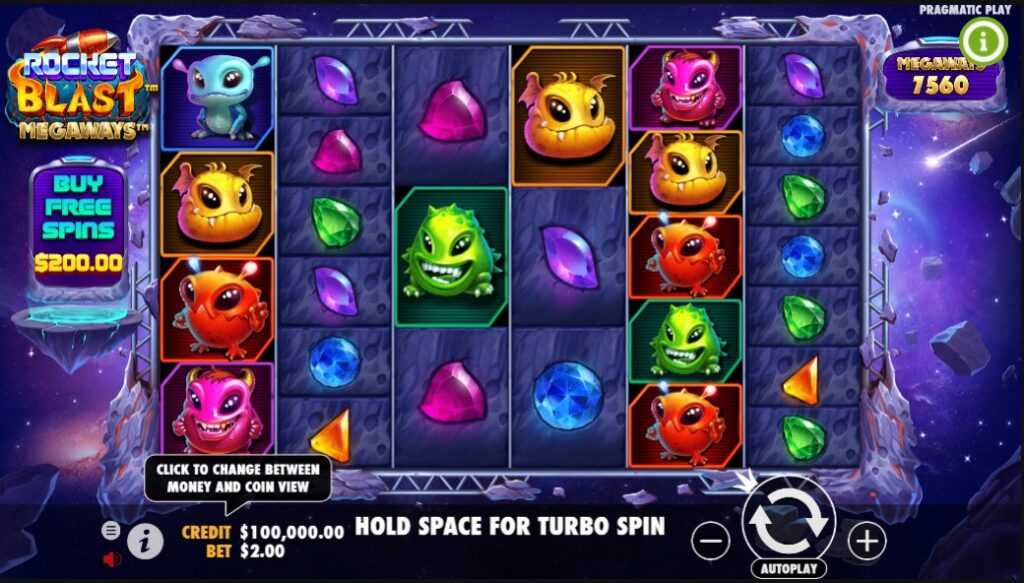 Gaming Dynamics: Ready for Liftoff!
Brace yourself for an exhilarating ride! Gamblers can stake bets ranging from 20 p/c to £/€240. Fancy a bonus buy? It's yours for 100 times the bet. Boasting an RTP of 96.01% (or 96.09% with bonus round purchase), the slot's volatility might give you a feel of being atop the Saturn 5 during take-off. Perhaps not as wild, but do anticipate some thrilling fluctuations!
The slot features a dynamic 6-reel grid, displaying 2 to 7 symbols randomly per spin. This can potentially skyrocket your winning ways to a whopping 117,649! The game hosts a unique array of symbols:
High Pays: Five quirky aliens.
Low Pays: Five shimmering gemstones.
Wild Symbol: A 'W' symbol, reminiscent of the Nova Corps helmet.
Features of Rocket Blast Megaways
Tumbles: Winning symbols vanish, replaced by tumbling ones from above. Consecutive wins continue the feature, culminating in a total win.
Rocket Feature: On landing, the Rocket transforms all underlying symbols into wilds. Following a symbolic blast-off, the wilds nudge downwards with every winning tumble, eventually exiting the grid or concluding at the end of a free spin sans any more wins.
Free Spins: 4 to 9 scatter symbols can unlock 10 to 35 free spins. Thereafter, players face a choice: gamble for more spins on a colorful wheel or advance to the bonus round. Win up to 35 spins through the gamble feature, but beware – a losing gamble can strip away all your free spins. The bonus round graces players with an ever-increasing win multiplier.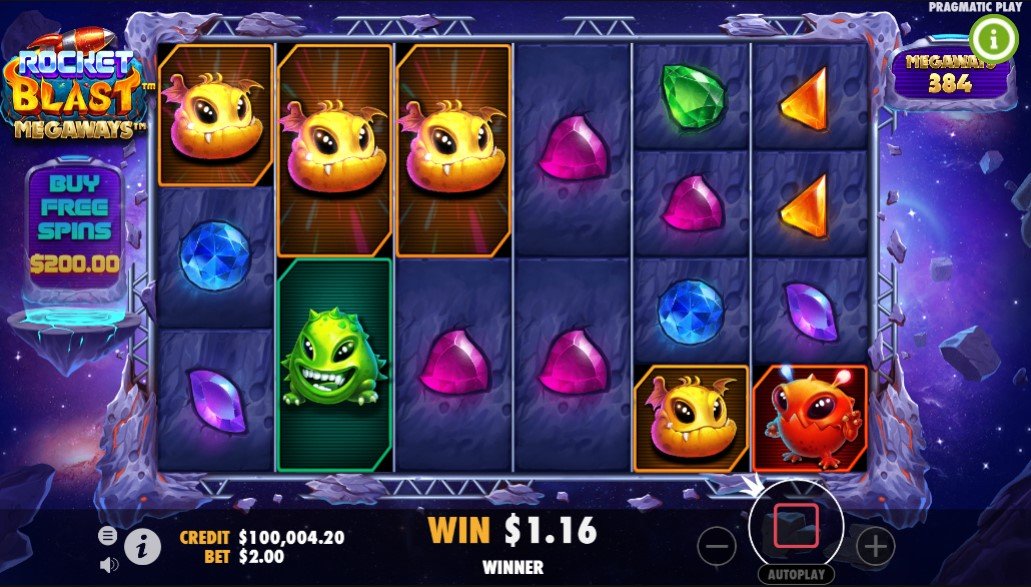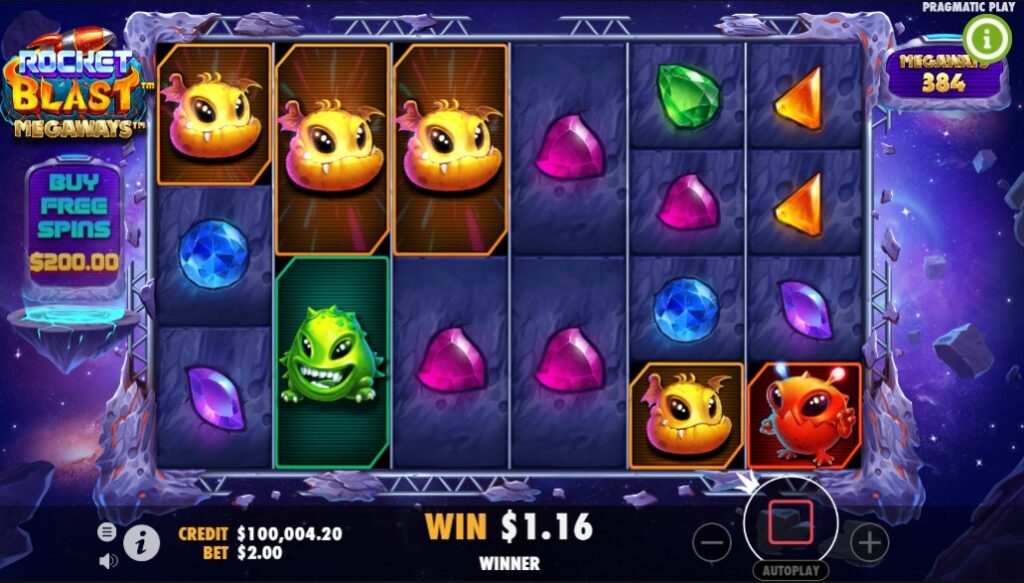 Final Verdict: A Cosmic Win or a Black Hole?
Embarking on a galactic journey beyond our solar system, and possibly universe, is a daunting venture, both technologically and imaginatively. However, Rocket Blast Megaways proves to be a medium through which we can glimpse into what might lie in the yonder cosmos.
The game is not without its critics. Its features, while entertaining, might be seen as familiar to veteran gamblers – the standard Megaways blend of tumbles, free spins, and increasing win multipliers. But, the Rocket feature brings a fresh twist, reminiscent yet distinct from slots like Power of Thor Megaways or Spicy Meatball Megaways.
Its payout potential, peaking at 10,000 times the bet, though not groundbreaking, harmonizes with the game's overall offering. Rocket Blast Megaways may not revolutionize the slot universe, but with its captivating visuals and immersive gameplay, it promises an engaging cosmic journey worth embarking on. So, why not give it a spin and take off into the stars?