Step into Nostalgia, Spin for Legacy – Hugo's Grandest Adventure Awaits!
Pros
Set in a picturesque backdrop, capturing the essence of the Troll Forest
The 7x7 cascading grid keeps the gameplay engaging and exciting
With the Telephone meter and five character modifiers, there's a lot to explore
Adds an innovative twist to the free spins, ensuring a brisk game pace
With a wide range of betting options, it caters to both casual gamers and more seasoned players
A treat for longtime fans, invoking memories of the TV gaming days
Cons
The medium volatility might not appeal to those who chase massive wins
Even though there's potential for more potent spins, the base is just one spin
Hugo, the ever-smiling cartoon troll, once captivated the hearts of kids and made a place for himself in the Danish television sphere as 'Skærmtrolden Hugo'. While it might come as a surprise, he has steadily carved out a niche for himself in the online gambling world, thanks to Play'n GO. The new addition, Hugo Legacy, celebrates (albeit slightly inaccurately) the 30th Anniversary of Hugo's debut.
Visual Appeal and Atmosphere
Nestled in a serene grassland adjacent to the mythical Troll Forest, Hugo stands out, showering players with his trademark charm. The immersive backdrop, complete with falling leaves, wandering butterflies, and a radiant sun, sets the mood for an emotionally rich gaming experience.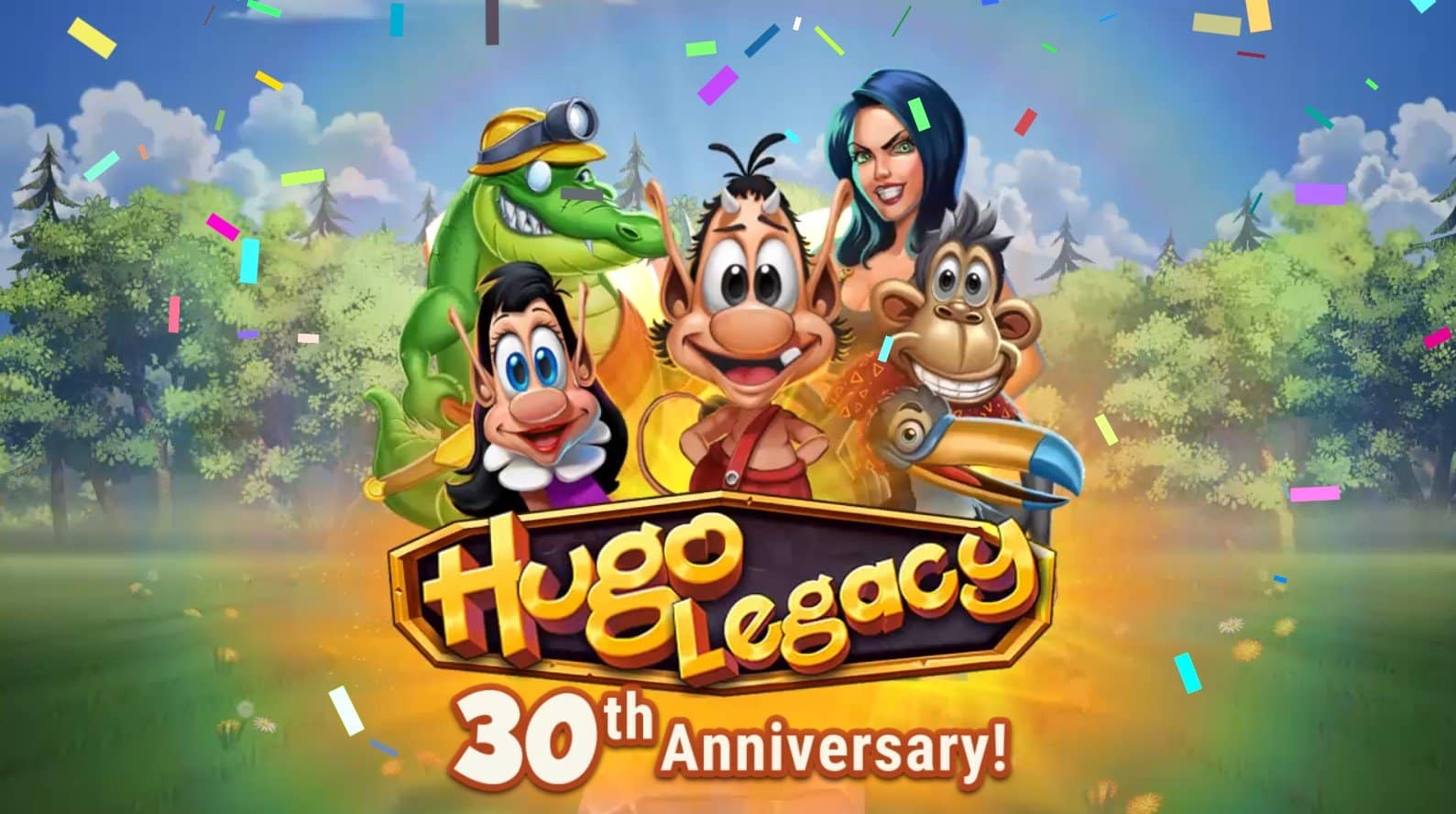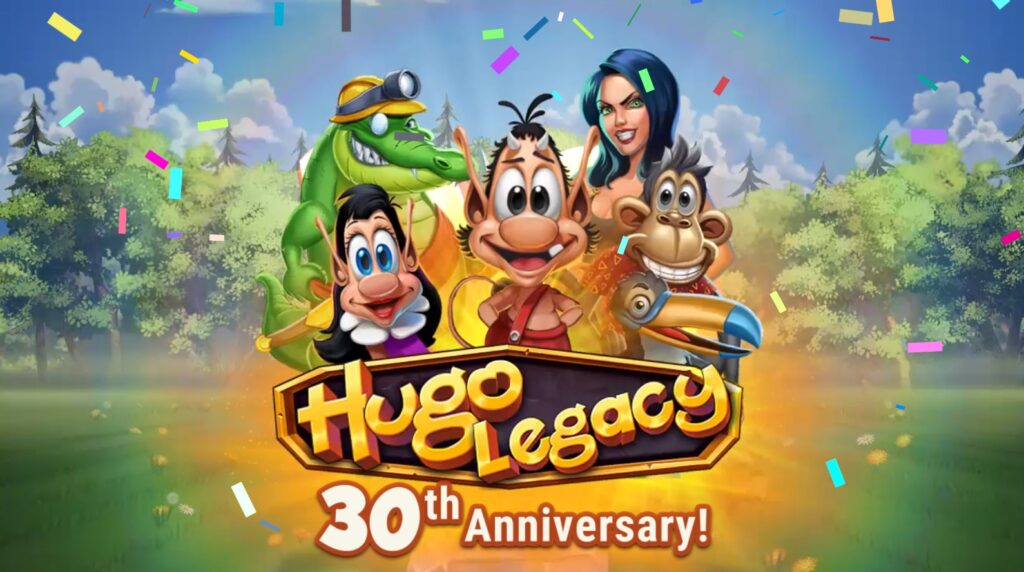 Gaming Mechanics: All About the Grid
The heart of Hugo Legacy lies in its dynamic 7×7 cascading grid matrix. Here's a brief rundown:
Winning clusters: Players bag a win when identical symbols align horizontally or vertically.
Cascading effect: Winning symbols vanish, allowing new ones to take their place, potentially triggering additional wins.
Volatility and RTP: The slot has a medium volatility (6/10) and a default RTP of 96.2%.
Symbols that Shine
From gold bars to dynamites and mining carts, the lower symbols are delightful to watch. The higher-end features characters like Jean Paul, Fernando, Don Croco, Scylla, and the star, Hugo. The gleaming diamond, acting as the wild symbol, adds zest to the game by replacing regular pay symbols.
Features Galore in Hugo Legacy
Every win contributes to the Telephone meter, culminating in unique game-changing modifiers or free spins. Here's a sneak peek:
Hugo – Introduces 5 to 8 wilds.
Scylla – Safeguards 1 or 2 symbol types, while eliminating the rest.
Don Croco – Morphs 2 to 5 symbol types.
Fernando – Converts one symbol type to wild.
Jean Paul – Crafts a winning cluster.
Unlocking Free Spins
Starting at 35 charges, players can embark on a free spin journey. With more charges, come more potent free spins, and the gamble feature lets players take risks for richer rewards. The unique "wild collector" mechanic keeps players engaged, ensuring the gameplay remains brisk.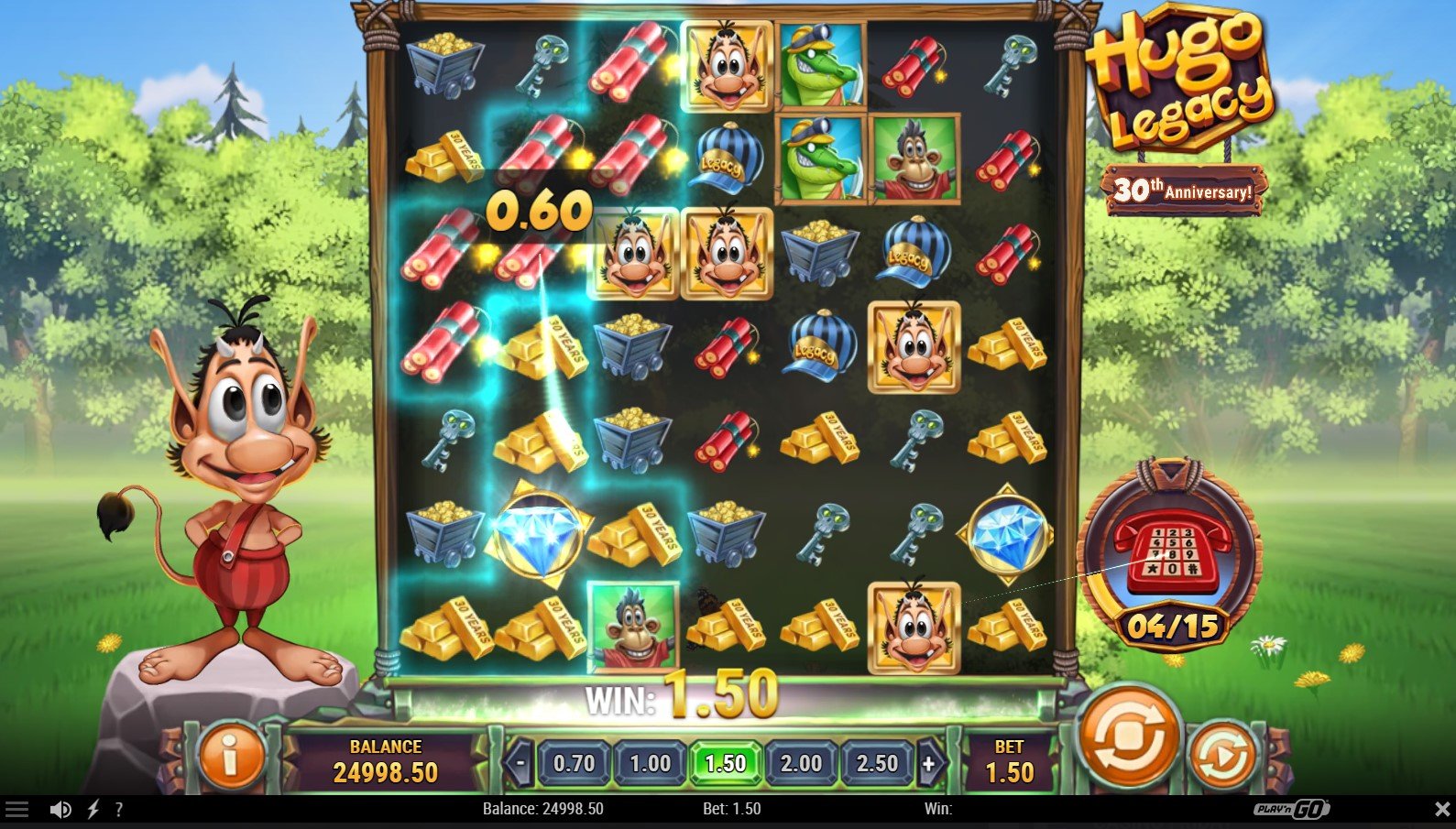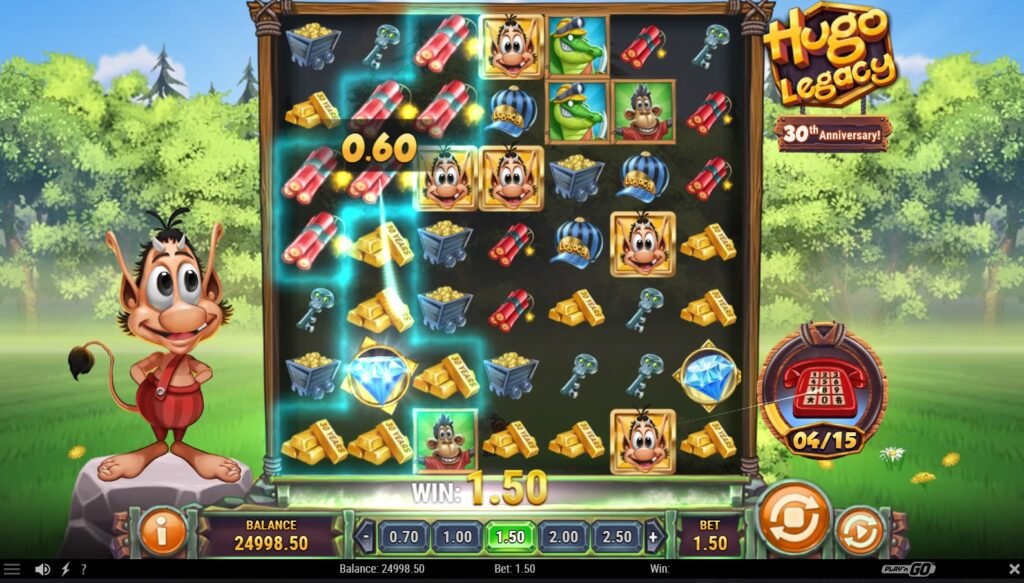 The Verdict: Is Hugo Legacy Worth Your Time?
Play'n GO's Hugo journey has seen its highs and lows. While the previous title, Hugo Carts, flaunted a high volatility, Hugo Legacy embraces a more relaxed vibe. The game offers a mix of frequent features and a top potential of 3,000x the bet. The gamble feature adds an extra layer of excitement for those seeking a thrill.
The longevity of Hugo as a character speaks volumes about his charisma. Hugo Legacy embraces the character's charm, blending it seamlessly with gaming elements. For longtime fans, the telephone and other symbols will evoke nostalgia, taking them back to the days of TV gaming.
But even if you aren't familiar with the troll's history, Hugo Legacy stands out as a light-hearted, feature-packed slot that's bound to entertain. Whether you're a newbie or a seasoned gambler, this game promises a unique, delightful experience.