Sweet Stakes, Sweeter Rewards: Dive into the Buzz of Honey Rush 100!
Pros
Detailed and immersive background for a better gaming experience
Retains the beloved acoustic guitar soundtrack
Offers both old and new features for a dynamic gameplay
The possibility of achieving a x100 win multiplier
Cons
Might not offer enough new features for some
Within the expansive universe of bee-themed slot games, Play'n GO's Honey Rush has buzzed its way to prominence. Originally introduced in 2019, it quickly became a favorite for its captivating bee-centric features, immersive gameplay, and impressive potential rewards. Capitalizing on this success, Play'n GO returns to the scene with Honey Rush 100, part of their upgraded '100' series. This new version promises greater potential while maintaining the essence of its predecessor and adding a sprinkle of new elements.
Visual and Audio Appeal: Nature's Serenade
One of Honey Rush's standout features is its melodious acoustic guitar soundtrack, which thankfully remains untouched in the new version. This soothing melody acts as a bridge between the two games. The game's visual setting, rich with its hexagonal game grid, invites players into an enhanced natural world. The more detailed and enriched backdrop is sure to appeal to those who have an affinity for nature's beauty.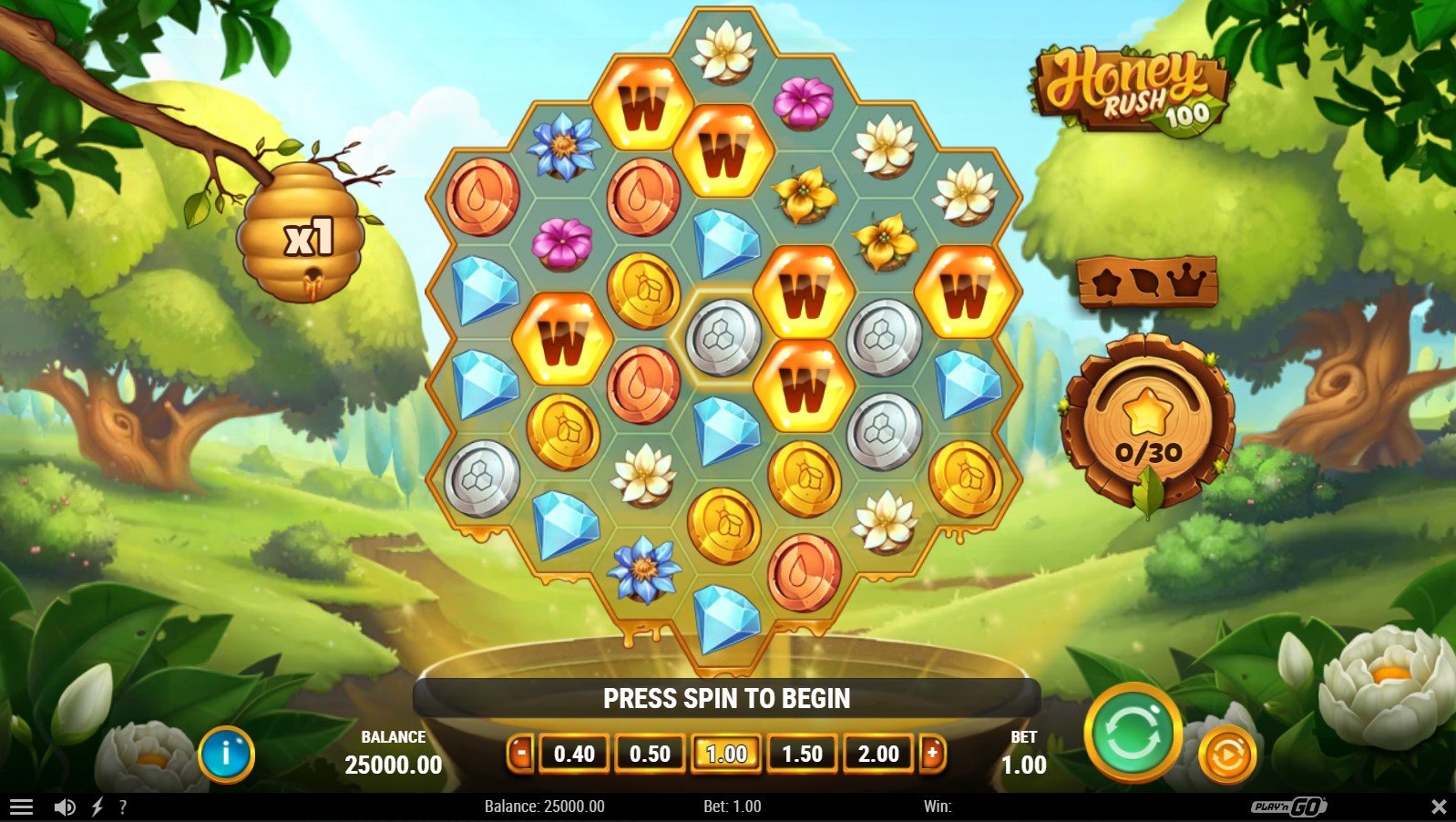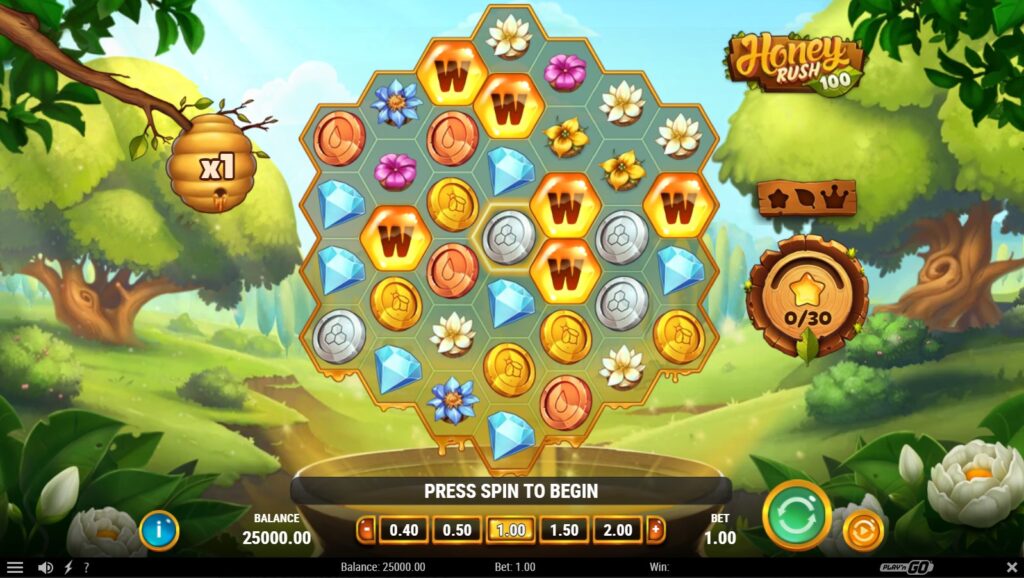 How It Works: Betting and Game Rules
Jumping into the mechanics, players have a betting range spanning from 10 p/c up to £/€50 for each drop. While full statistics aren't provided, insights from prior Play'n GO games hint at an RTP hovering around 96.2%. The high-volatility nature promises an engaging experience, aligning with what fans loved about the first Honey Rush iteration. The cluster-paying slot showcases itself on a distinct 7-reel grid, adopting a 4-5-6-7-6-5-4 configuration. For a victorious round, players need a minimum of five identical symbols.
Symbol Guide: Floral to Shimmering Rewards
Navigating the game symbols, we find:
Entry-Level Symbols: Consisting of four varied flowers.
Premium Symbols: A progression from bronze, silver, and gold coins, culminating with a dazzling diamond.
Achieving a cluster with five of the same symbols could amplify your bet from 0.1 up to 0.5 times. On the other hand, a massive 37-of-a-kind cluster can escalate this boost to a generous 10 to 50 times, albeit a tad reduced from the original Honey Rush values.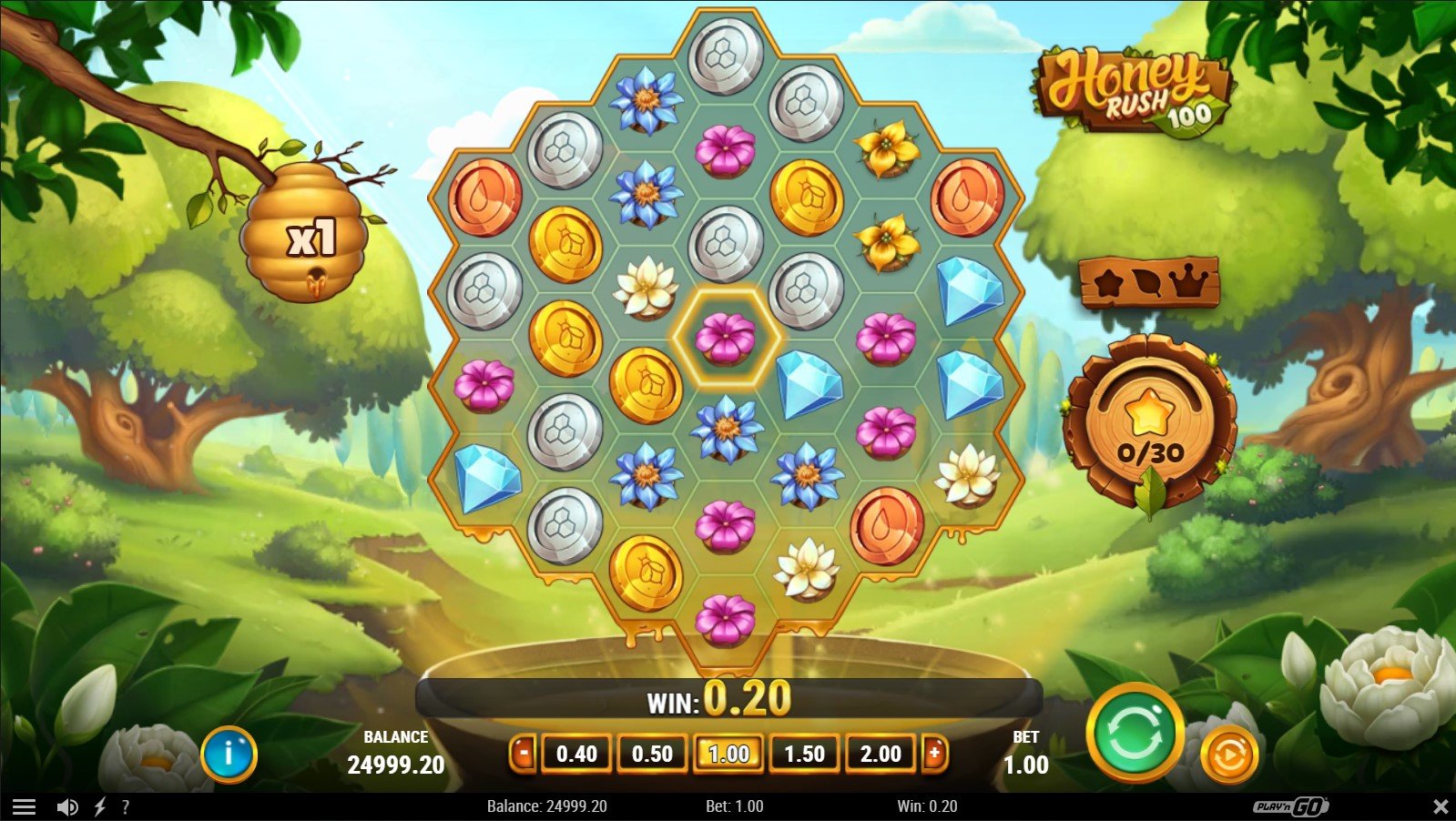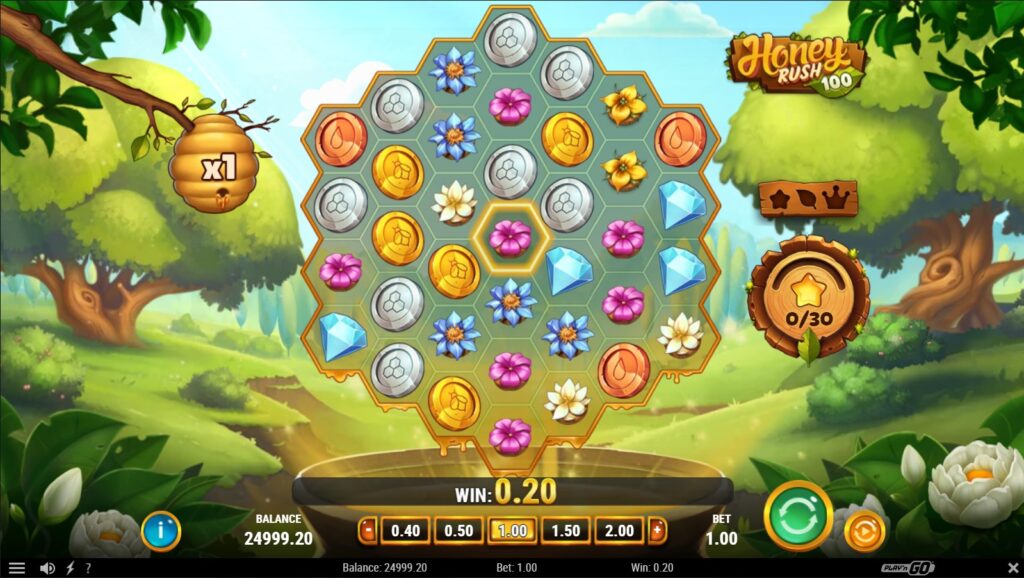 Game Enhancements: Features Overview
Honey Rush 100 offers an array of both familiar and fresh features:
Cluster Wins: Upon forming a winning cluster, the relevant symbols vanish, replaced by new cascading symbols. This continues until no additional wins arise.
Rush Meter: Energized by cascade-won symbols, it unveils varied Colony features based on collection milestones:

Level 1: The Drone Colony gets activated with 30 symbols.
Level 2: 60 symbols usher in the Worker Colony.
Level 3: The Queen Colony comes to life with 90 symbols.

Colony Feature: Depending on its activation level, a symbol in the center gets replicated, forming clusters of 7 up to a massive 37 symbols.
Sticky Wild Feature: Represented by 'W' symbols, these are versatile, and when part of a winning cluster, they gravitate downward, potentially augmenting the multiplier.
Overcharge: Once 90 symbols are gathered, the Rush Meter enters a boosted state, enhancing the central symbol. Following specific patterns, wilds can uplift the win multiplier, potentially soaring to a striking x100.
Overcharge: Once 90 symbols are gathered, the Rush Meter enters a boosted state, enhancing the central symbol. Following specific patterns, wilds can uplift the win multiplier, potentially soaring to a striking x100.
Wrap-up: A Sequel Worth the Buzz?
Rather than a mere replication, Honey Rush 100 stands out as a commendable successor. While it preserves the central gameplay around symbol gathering and Colony feature activation, it introduces subtle variations. The introduction of sticky/falling wild features and the potential of achieving a x100 win multiplier adds layers to the gameplay.
To summarize, while Play'n GO has crafted a commendable '100' rendition of a cherished slot, there might be a thirst for more groundbreaking elements among some players. However, the seamless blend of classic and contemporary elements in Honey Rush 100 makes it a slot experience that shouldn't be missed by both regulars and newcomers.