Rock the Reels with Hellvis: Where Legendary Beats Meet Devilish Wins!
Pros
Unique theme merging the legendary Elvis with a devilish twist
Diverse betting range from 20 p/c to £/€100, suitable for all players
The Ante Bet option doubles the chances of landing free spins
Bonus features such as the Golden Wild Respin mode and escalating multipliers in free spins
Cons
High volatility (4.5 out of 5) may not suit all players
Buying free spins might be viewed as an unnecessary expense by some players
Elvis Presley, celebrated as the Rock 'n Roll King, has been the center of countless theories and rumors. From supposed diner appearances to outlandish alien stories, Elvis' story is endlessly fascinating. Pragmatic Play offers a unique interpretation with the Hellvis Wild slot, merging Elvis with a devilish, guitar-playing avatar.
Design: A Demonic Rock Symphony
Rock and heavy metal have frequently been showcased in slot games. Pragmatic Play's Hellvis Wild sets itself apart by infusing the iconic Elvis persona with a devilish twist. Spike-embellished fonts, card royals, and other rock-inspired symbols stretch across its 5-reel layout. The electrifying Hellvis with his lightning-infused axe stands out, though the transition from a purple to red backdrop might feel a bit understated, especially when juxtaposed with stalwarts like Kiss Reels of Rock or Testament from Play'n GO. Nevertheless, the imagery retains its charm without overpowering the game dynamics.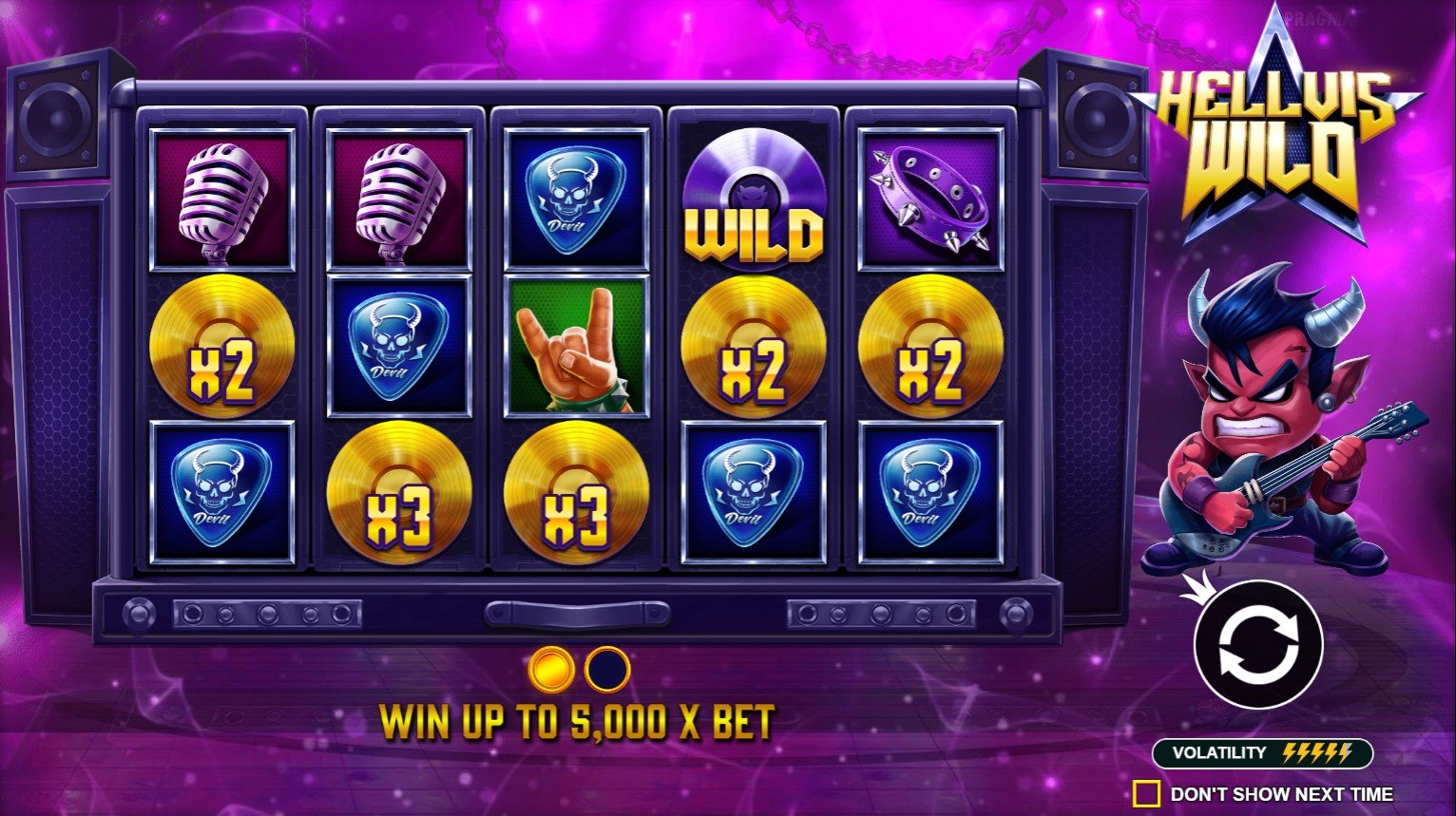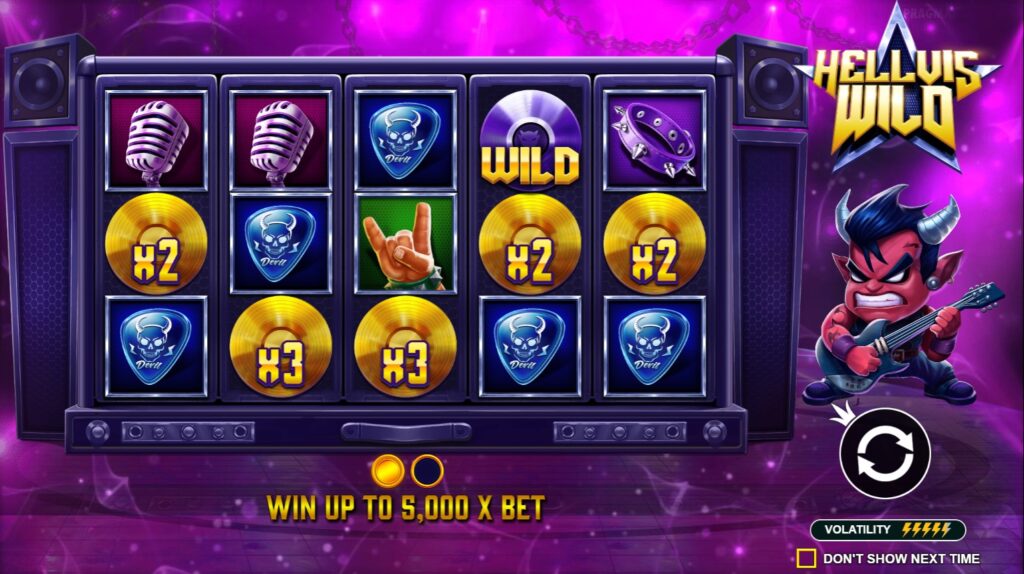 Gaming Dynamics
Stakes Spectrum: Players can dabble with a modest 20 p/c or venture up to a bold £/€100 per spin. The Ante Bet feature is an interesting addition, amplifying the stake by 50% and doubling the odds of triggering free spins.
Risk & Returns: Treading on the riskier side with a volatility index of 4.5 out of 5, it's a roller-coaster ride. RTP values offer a spectrum, with the pinnacle at 96.01%. Engaging the Ante Bet pushes this to 96.05%.
Payout Mechanics: The 243 ways-to-win format promises endless excitement. The variety spans from the edgy J-A card icons to high-value tokens like guitar picks and microphones. The dual wilds – a standard and a Golden Wild, boost the game's appeal, swapping out any regular icon for lucrative gains.
Highlighted Features
Golden Wild Spin Boost: The Golden Wild icons aren't mere decorations. Securing one paves the way for a bonus respin mode, with an escalating multiplier as the Golden Wild progresses downward.
Bonus Spins: Landing three to five scatter tokens unlocks a cascade of free spins (ranging from 7 to 15). Golden Wilds in these rounds get an added multiplier kick, upping the stakes.
Instant Spin Purchase: If patience isn't your virtue, there's a shortcut to the bonus round by shelling out 100 times the bet, while retaining the 96.1% RTP.
Wrap-Up
Hellvis Wild, although evoking memories of previous slots due to certain staple features, successfully establishes its distinct presence. It provides transient exhilaration, akin to a fleeting chart-topping track. Features like the adaptive multiplier wild make it a must-try.
In essence, while Hellvis Wild serves as an enjoyable gaming pit-stop, a touch more innovation could have propelled it to iconic status. For now, it's a delightful diversion, apt for those seeking a brief change before diving into another gaming adventure.