Dive into "Frozen Tropics" to experience a unique blend of icy wonderland and tropical rewards, all wrapped up in Pragmatic Play's thrilling slot gameplay.
Pros
Dynamic gameplay with tumbling symbols
Unique frozen symbol feature adds to gameplay depth
Offers a rising win multiplier for boosted rewards
Free spins and bonus buy options available
High volatility can lead to larger wins
2,304 ways to win provide plenty of winning potential
Cons
May feel a bit rushed in terms of design and creativity
Melting symbols idea isn't entirely original
With the erratic twists and turns of our climate, Frozen Tropics emerges as an icy yet tropical fantasy. Brought to life by the renowned Pragmatic Play, this slot offers a refreshing respite from the scorching summer heat. As we delve into the heart of Frozen Tropics, players encounter cascading tumbles, intriguing frozen symbols, escalating win multipliers, enticing free spins, and the ever-tempting bonus buy feature.
Visual Extravaganza: Where Tropical Meets Arctic
The visual semblance between Frozen Tropics and ELK Studios' celebrated Tropicool is undeniable. Yet, Pragmatic Play brings its distinctive touch, transporting players to an icy realm adorned with frozen tropical flora. Overseeing your slot journey is a dapper bird in a top hat, reminiscent of Tropicool's iconic Tony Toucano. Yet, what sets this slot apart is its innovative 3-4-4-4-4-3 reel structure, though some may argue that it doesn't quite match the grandeur of ELK Studios' offering in sheer visual spectacle.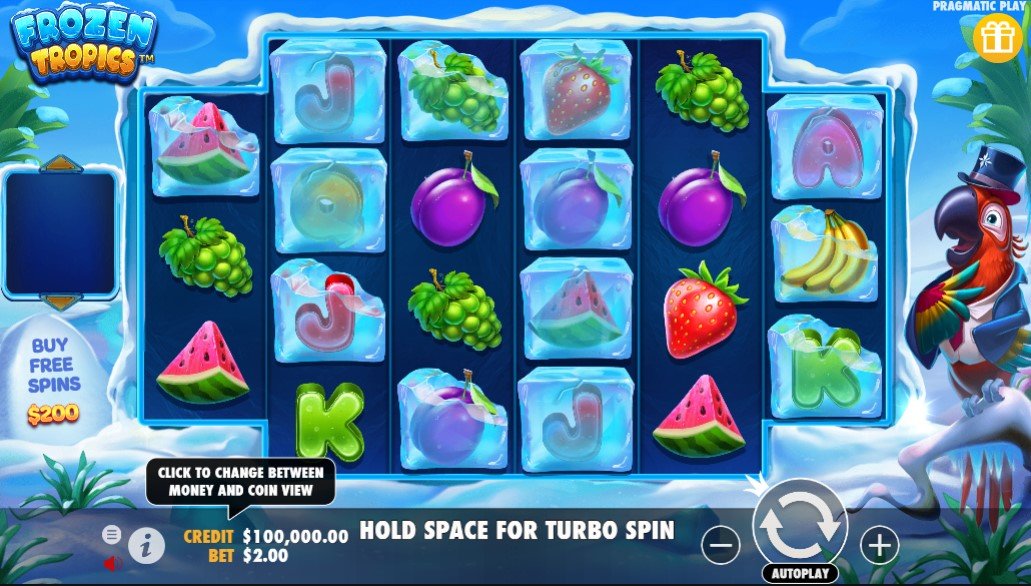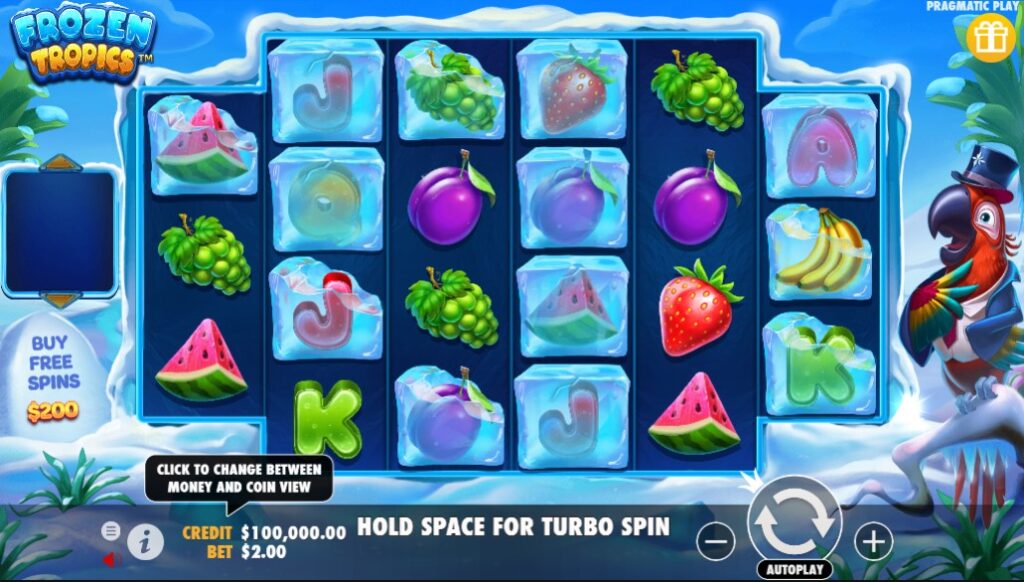 Dive into Dynamic Gameplay
Frozen Tropics, with its high volatility, promises an adrenaline-charged experience. With a respectable RTP of 96.15%, players can place their bets anywhere between 20 p/c to a whopping £/€240. For those eager to jump straight into the action, the bonus buy option offers an express route to the free spins galore.
Navigating through the slot unveils a plethora of symbols:
Low Pay: The classic card ranks from 10 to A, given a chunky and icy makeover.
High Pay: A tropical array comprising bananas, juicy watermelon slices, succulent grapes, plump plums, and the radiant strawberry.
Wilds: These versatile symbols can replace any other, except the scatter, propelling you closer to those wins.
Features that Sparkle and Shine
Frozen Symbols: A unique trait of this game, symbols appear in three frozen states. Their level of 'freeze' determines their interplay with the tantalizing tumble feature. And as they progressively thaw, they unveil profit-boosting multipliers.
Tumble Mechanics: This dynamic feature ensures that winning symbols gracefully exit, making way for fresh ones to tumble into their place. This cascade can lead to a sequence of wins, persisting until the winning wave subsides.
Free Spin Frenzy: Scatters are your key here. Secure between 3 to 6 of these, and you're ushered into a world of up to 10 free spins. The cherry on top? Scatters can also amplify your bet up to a staggering 100x.
Free Spin Frenzy: Scatters are your key here. Secure between 3 to 6 of these, and you're ushered into a world of up to 10 free spins. The cherry on top? Scatters can also amplify your bet up to a staggering 100x.
Buy Free Spins: For those unwilling to wait, Frozen Tropics offers a golden ticket directly to the free spins. At 100x your bet, dive straight into the action, with a steady RTP of 96% to boot.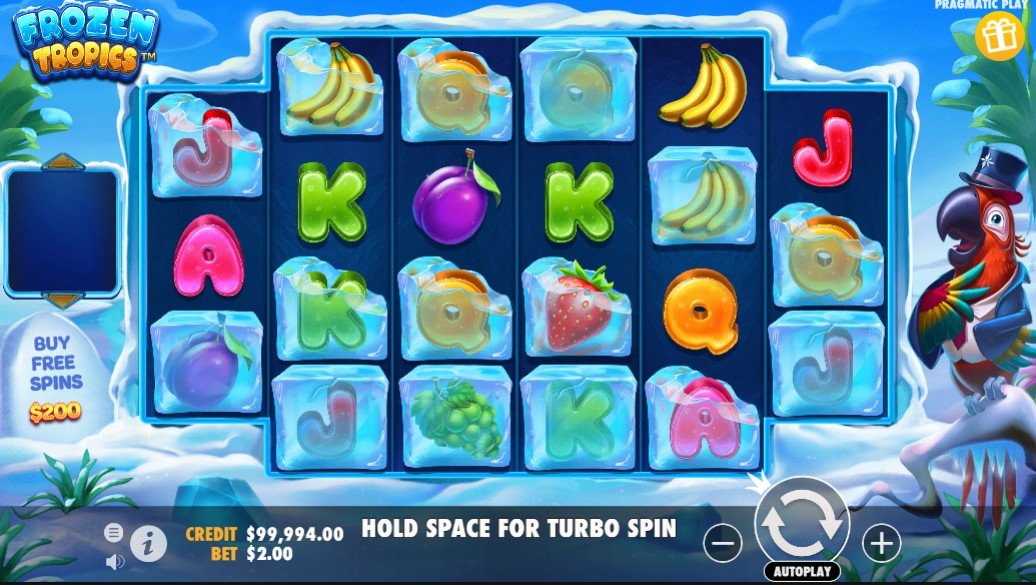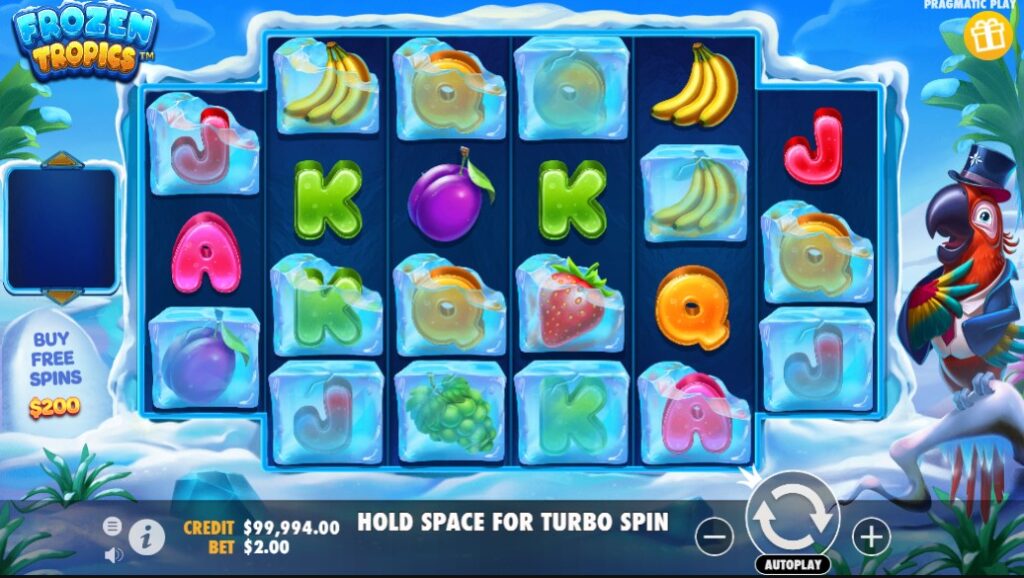 Final Thoughts: An Icy Oasis or a Frosty Mirage?
Having carved a niche with hits like Pub Kings and Candy Blitz, Pragmatic Play introduces another contender in the slot arena with Frozen Tropics. While it sails close to the wind of Tropicool and borrows elements reminiscent of Keep 'Em Cool, it's hard to overlook the polished, professional aura that is quintessentially Pragmatic Play.
The potential of colossal multipliers, particularly stemming from wilds on reels 2 or 5, transforms it into a slot with promises of bountiful rewards, peaking at 9,000 times the bet.
In a Nutshell
Frozen Tropics is a harmonious blend of the tropics and the tundra. It's a slot that dares to diverge from the sun-soaked norm, presenting an icy escapade that beckons players to embark on a unique spinning journey. Whether you're a seasoned slot enthusiast or a curious newcomer, Frozen Tropics promises a frosty tropical adventure like no other.