One of the most exciting online slots to come out of 2020!
Pros
Entertaining
Easy to play
Medium volatility
Cons
Gets tedious after a while
No large wins
9 Pots of Gold Slot Review 2021
The moment you thought that Irish-based slots could not be done anymore, this enticing (and oh so slightly addictive) online slot game came along. In terms of graphics, it's all about green. Apart from the pots of gold, that is. The animations are pretty entertaining too – a large win will make the playing grid shrink and you will see two joyful leprechauns on your screen helping you enjoy your winnings!
There are twenty active lines that you can use for each round with the standard five reels associated with online slot games. The biggest winning combination is 2,000 times your initial stake and you can win an incredible 120,000. Not bad at all!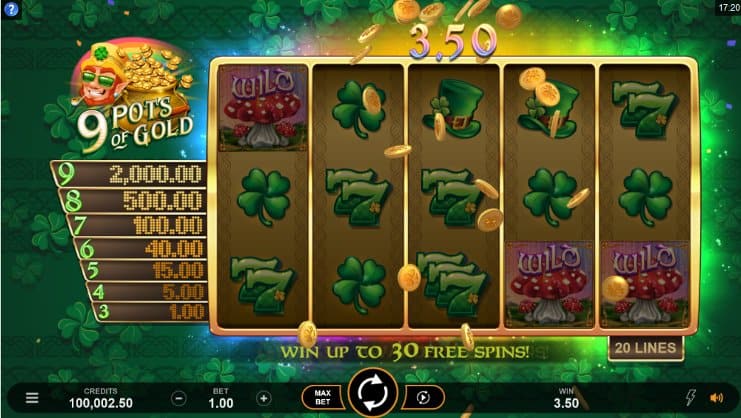 How to play
Playing 9 Pots of Gold is pretty easy. All you need to do is look for the wild (the red toadstool). If you can get it to land next to symbols that match, you will have your winning combinations. If it comes up on multiple occasions, you could be winning big!
Bonus Features
There are a number of bonus features on 9 Pots of Gold. The most enticing is of course the Pot Plays feature which will allow you to win instant cash.
Free Spins
Everyone loves free spins and they are easy to get in this very exciting game. To unlock a free spin, you need to get three or more scatters when you are on reels 2, 3, or 4. You will then get the very vibrantly colored fortune wheel which is known as the Free Spin Wheel. This is divided into ten parts. Each of these has a number of free spins.
RTP & Volatility
9 Pots of Gold has an RTP at a very trustworthy 96.24%, which is just slightly higher than the industry average. In terms of volatility, it is set to medium. This is fantastic news for players who would like to win small and medium amounts more often.
Game Interruptions
Life happens to all of us. Our kids come in, or our partners and this often means that our games will be interrupted. When this happens, you will be able to resume the game from the point of the last spin or the outcome of the game you were playing. All of your already accumulated winnings will be credited to your account so you don't have to worry about losing your extra cash. This is a feature I particularly enjoy as it means that I don't have to worry about missing out on those winnings.
Player Reviews
As a regular online slot player, I was a bit sceptical about yet another Irish-themed online slot game. However, I was wrong and pleasantly surprised. The game is extremely entertaining and fun. It has become my favourite way to pass the time after a particularly long day at the office. Don't believe me? Try it yourself and see! You have nothing to lose.
9 Pots of Gold Video