Ternion: Spin the Reels, Unleash the Powers, Seize the Jackpot!
Ever pondered what it feels like to be part of a superhero alliance? The esteemed gaming company, Play'n GO, introduces you to Ternion, a virtual slot game that inducts you into a phenomenal superhero team. This game analysis delves into the dynamics of the superheroes, their superpowers, and your prospects of amassing immense rewards in this electrifying game!
An Extraordinary Troika
The term 'Ternion,' as described by the Merriam-Webster dictionary, denotes a set of three. This concept is actualized in this vibrant slot game. The trio, comprising Ice Lady, Blade Lady, and Fire Man, embarks on daring exploits in a cityscape punctuated with skyscrapers. Unlike mainstream superhero universes such as Marvel or DC, this team is unique and intriguing in its own right.
Game Dynamics
In terms of game structure, Ternion comes with a 5-reel, 4-row layout, featuring 20 paylines for scoring winning combos. Ternion is a high-volatility slot with an RTP rate of 96.20%, capable of offering hefty wins or evoking intense fluctuations in gameplay. The excitement kicks off with players placing their wager from a range of 20 p/c to £/€100 per round.
Icons and Special Features
Each hero is characterized by their unique power, or modifier, which can be activated randomly during the base game. Here's a rundown of the main features to expect during your heroic expedition:
Wild Symbol: This icon can replace any other, except for the scatter symbol, aiding in the formation of winning sets.
Scatter Symbol: This particular symbol sets off the Doomsday Free Spins bonus phase when three or more appear on the reels.
Ice Shards: Ice Lady's unique ability materializes 3 to 10 wilds at random locations, creating opportunities for significant wins.
Blade Flurry: Blade Lady's power banishes all low-paying icons, with high-value ones cascading in to fill the void.
Pillars of Flame: Fire Man's capability turns 1 to 4 reels entirely wild.
Doomsday Free Spins: The bonus round, triggered by landing three or more Scatter symbols, could award up to 38 Free Spins.
The Bonus Round Entrance
A key symbol to spot is the gold Rolex-like scatter, available on all five reels. Obtaining 3, 4, or 5 scatter symbols grants 8, 10, or 14 Doomsday Free Spins correspondingly. During this phase, the heroes' abilities become 'supercharged.' Moreover, if wilds stack atop each other, the multiplier is boosted by +1, heightening your chances of more significant wins.
Player's Verdict
Ternion delivers an immersive slot gaming journey with its robust set of features and the potential for colossal wins. The superior graphics enrich the gameplay experience, and the distinctive superhero theme adds an enticing element. Although the motif might appear commonplace to some, Ternion offers an engaging gaming experience that is absolutely worth exploring. A remarkable feature of this game is its grand potential payoff, which peaks at 11,111 times the wager, making it a compelling option for ambitious slot aficionados.
So, what's holding you back? Plunge into the world of Ternion and gear up for a high-stakes quest that could crown you as the subsequent mega-winner!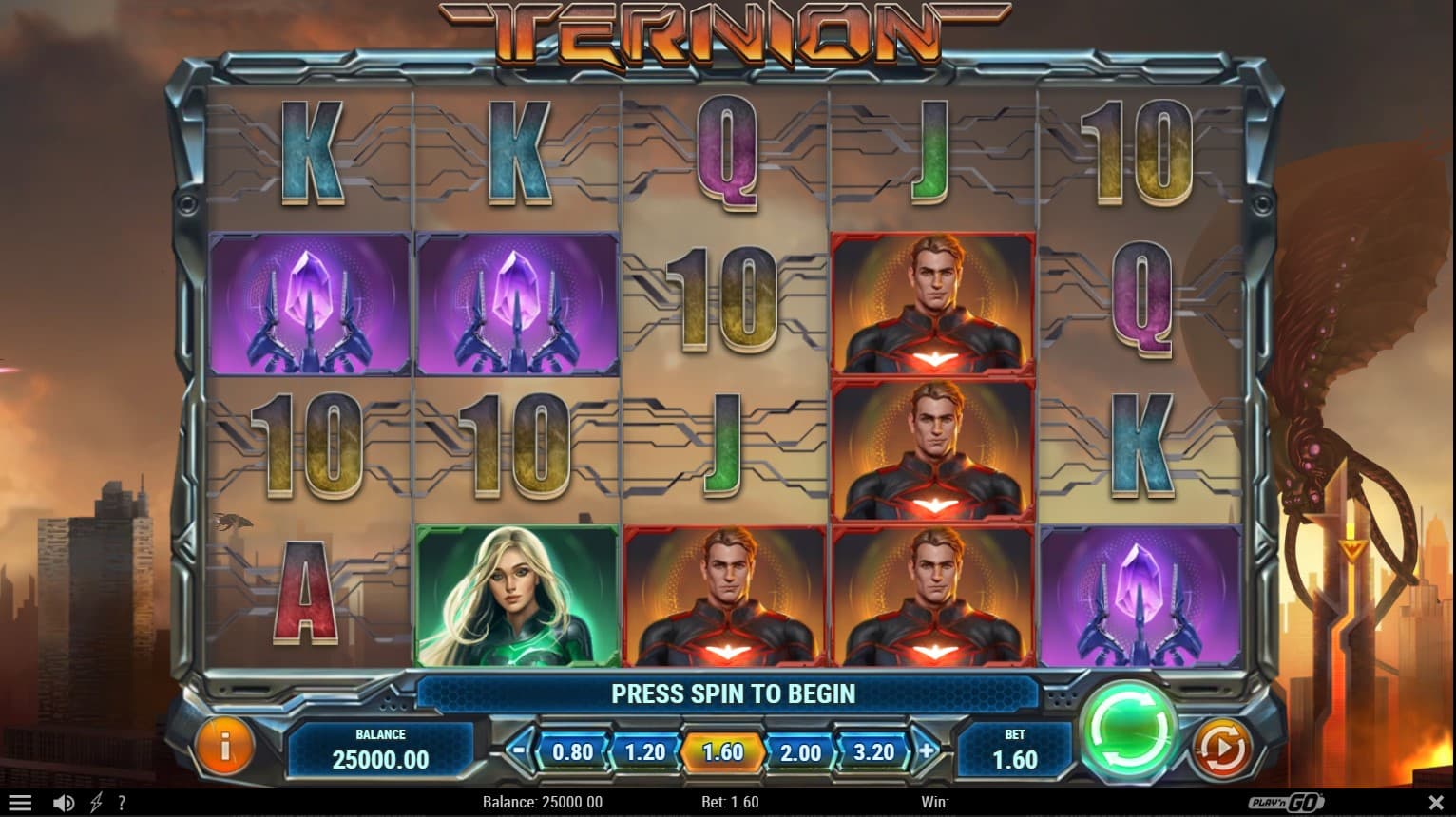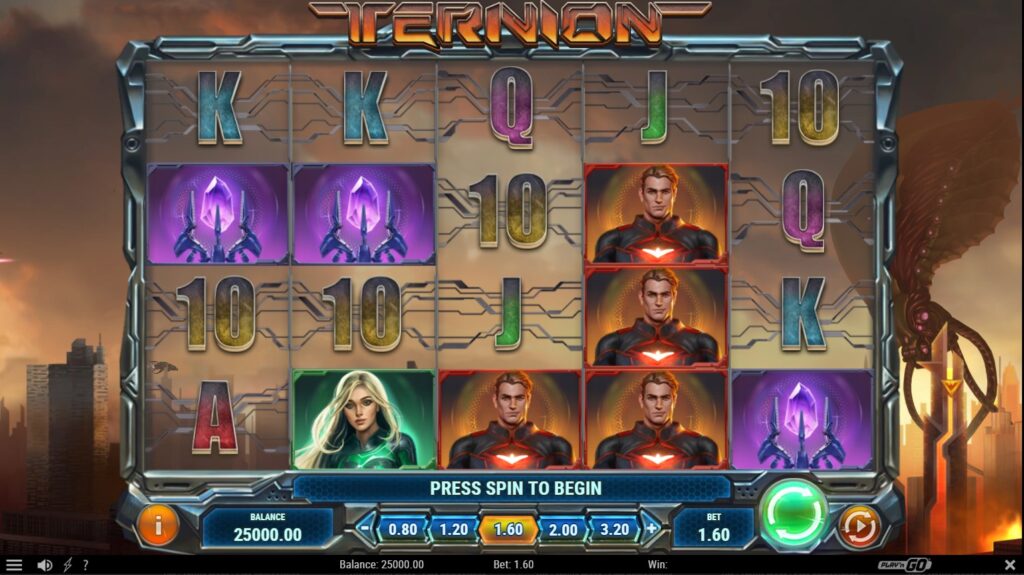 Striking a Balance
While some might argue the characters are somewhat ordinary, they nonetheless reflect Play'n GO's steadfast dedication to curating high-quality gaming experiences. The firm continually challenges the conventions of online slot gaming, crafting an equilibrium between volume and value. Rather than merely rolling out a multitude of games, their focus is centered on infusing each new launch with meticulous details, captivating graphics, and pioneering features.
Wrapping Up
Without a doubt, Ternion makes a notable impression in the world of online slots with its captivating superhero-themed narrative, unique attributes, and prospects for substantial payouts. The game's allure stems from its straightforward mechanics seamlessly intertwined with a suite of appealing gaming elements.
Whether you're a newcomer or a seasoned gamer, Ternion deserves a spot on your gaming list. Every spin provides an adrenaline surge as the reels teem with superheroes and their awe-inspiring abilities. Who knows? You might just hit the jackpot and walk away with a win that's 11,111 times your stake!
So why wait? Join this superhero trio in their quest for triumph. Engage with Ternion and brace yourself for an unrivaled gaming journey that awaits.