Sweet Alchemy 2 – Spin, Win, and Revel in the Magical Candy Delight!
Pros
High winning potential with rewards up to 10,000x the bet
Engaging gameplay mechanics such as special wilds and cascading wins
Visually stunning with a whimsical candyland theme
Offers a free spins bonus round with added features
Gameplay innovation with chocolate blocker tiles and a 9x9 grid
Cons
Gameplay could be complicated for beginners
Requires smashing all chocolate blocks to trigger bonus round, which might be challenging
Sweet Alchemy 2, the radiant and bewitching online slot game, makes a triumphant return, demonstrating that follow-ups can eclipse the originals. Brought to you by the esteemed Play'n GO, this sugary slot spins a delicious narrative of magical victories. Its candyland theme is evocative of well-loved games such as Reactoonz or Moon Princess, while preserving its distinct appeal.
Magical Gameplay
The world of online slots seldom disappoints, particularly when the developer seeks to refine and enhance its creations. Sweet Alchemy 2 transports players to a sugar-filled utopia, full of cascading victories, distinctive wilds, mega symbols, and the thrilling objective of demolishing chocolate blocking tiles.
The game commences with a 5×5 grid nestled within a larger 9×9 matrix obstructed by chocolates. To unleash the game's full potential, players must form clusters of identical symbols, which clears the chocolate tiles and enlarges the grid.
Wild Symbols – Delicious Boosters
Sweet Alchemy 2 pulls no punches when it comes to wild symbols. The Striped Wilds and Gobstopper Wilds variants add a delectable complexity to the gameplay. Striped Wilds eliminate an entire row and column when part of a victory, while Gobstopper Wilds, with up to 5 lives, add a vital wildcard to the evolving game story.
Rewarding Free Spins
Underlining the saying that the finest things in life are free, the Bonus Round in Sweet Alchemy 2 is activated once all chocolate blocks are destroyed. It grants four free spins, paving the way for a grand display of cascading victories. The game also allows the appearance of 2×2 mega symbols, increasing the chances of high-stake wins.
During the bonus round, a collection feature is introduced, allowing players to fill symbol meters to gain potion bottles. These bottles cast their spell in the post-bonus round feature, offering an opportunity to spin the multiplier wheel of fortune and greatly boost the winnings.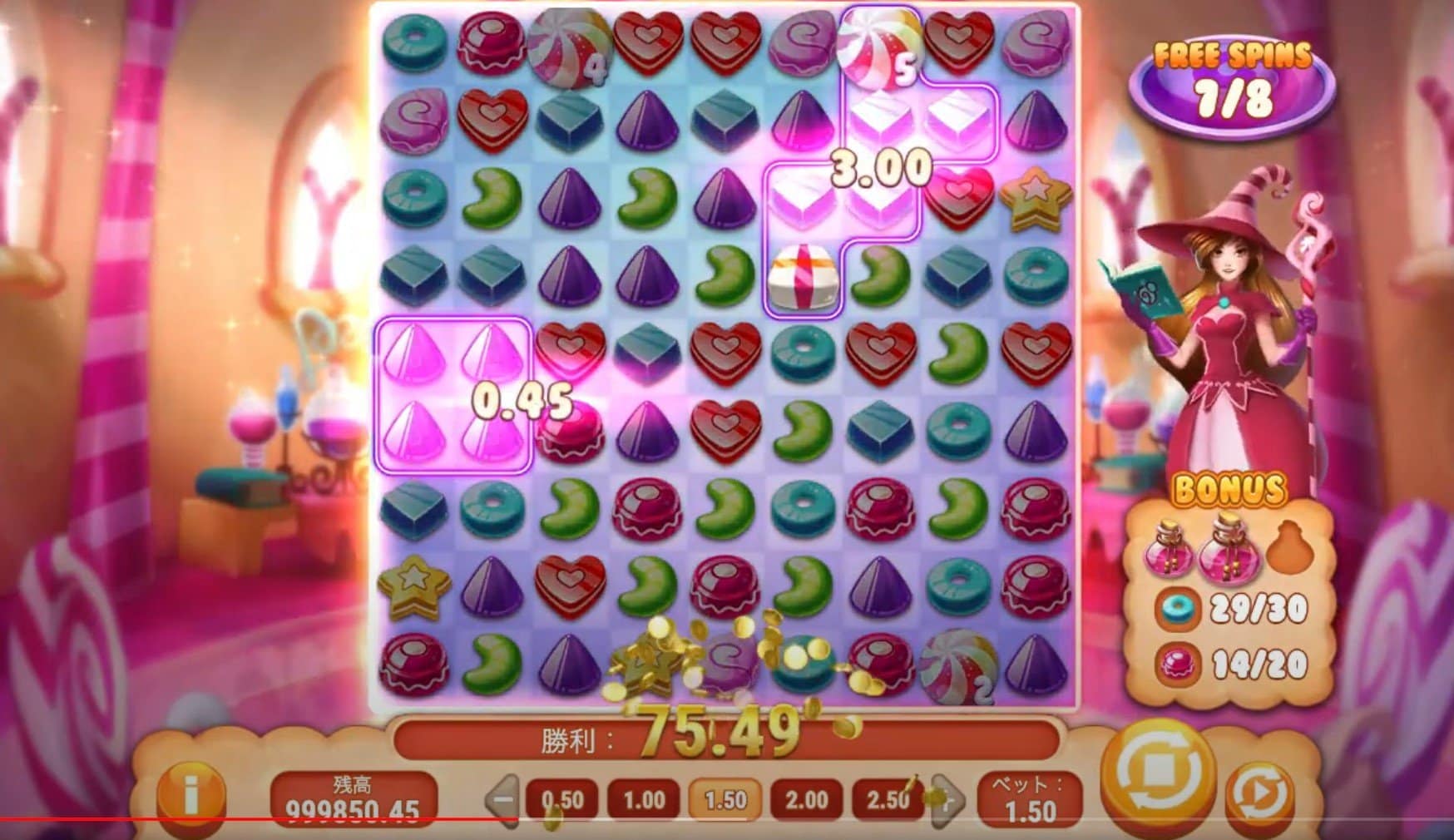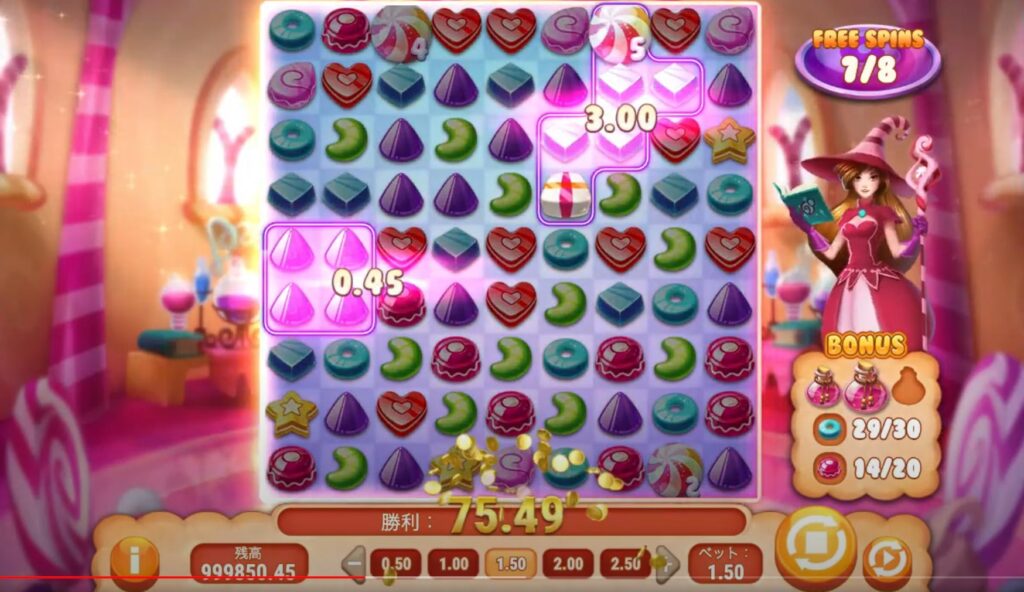 A Ride of Sugary Victories
Sweet Alchemy 2 pushes the limit of potential rewards. With a chance to win up to 10,000x the bet, compared to the original's 3,000x, the stakes have soared. The game offers a fanciful journey through victories and challenges for candyland grid slot fans. While the base game itself can offer substantial payouts, the true enchantment occurs during the bonus rounds.
The enchanting alchemist lady maintains the captivating story, providing a deeply immersive gaming experience. Although the vocal commentary may not be to everyone's liking, the delightful candy atmosphere and the excitement of unlocking massive wins ensure that Sweet Alchemy 2 is a commendable sequel.
Sequel Surpassing the Original
With extended cascading sequences, special wilds, pulse-quickening bonus rounds, and the mouthwatering aim of crushing chocolate blocker tiles, Sweet Alchemy 2 offers a more polished, enhanced, and thrilling gameplay than its precursor. The creative design, engaging mechanics, and elevated winning potential all contribute to a slot game that's not just a sequel – it's a game that stands in its own right.
For those seeking a novel yet recognizable experience in online slots, Sweet Alchemy 2, with its fusion of allure and challenge, could be your ideal choice.
Alluring Visuals and Sound
The graphics in Sweet Alchemy 2 are simply stunning. The game's whimsical candyland theme is complemented by a gingerbread castle backdrop, resulting in a nearly dreamlike gaming environment. The charming animations and vibrant, attractive colours will undoubtedly captivate any slot enthusiast.
Enhancing the overall experience, Sweet Alchemy 2 includes a lively and catchy soundtrack. The upbeat tunes, paired with the sweet and encouraging commentary from the alchemist lady, accentuates the overall theme perfectly, offering a thoroughly engrossing and enjoyable gaming journey.
Wrapping Up
Whether you're an admirer of the original Sweet Alchemy or a newcomer to candy-themed slots, Sweet Alchemy 2 is set to engage you instantly. Its combination of eye-catching visuals, uplifting soundtrack, thrilling gameplay mechanics, and high winning potential makes it an exhilarating addition to the Play'n GO's slot game portfolio. So, brace yourself to partake in a sugary adventure and spin your way to magical victories with Sweet Alchemy 2!
Remember, the right mix of strategy and fortune could guide you to the sweet sensation of triumph in this delightful candy-themed sequel. Enjoy spinning, but keep in mind to always play responsibly. Understand that success in online slots, such as Sweet Alchemy 2, largely hinges on luck. Always consider your budget and play within your limits.