Awe-Inspiring Artistry: Aesthetic Brilliance in Slashimi Slot
Slashimi, a Play'n GO slot, is a wonderful tribute to the beauty of sushi and the serene ambience of a typical Japanese diner. The game depends on its immersive graphics, putting you in the presence of a precise sushi chef who is always at work, creating a realistic ambiance. As you interact with the dangling fish and the knife-wielding chef, the background of Slashimi comes to life. Its underwater-inspired soundtrack completes the peaceful atmosphere, further immersing you in this enthralling sushi bar experience.
Immersive Gameplay: Betting Dynamics and RTP
Notably, Slashimi combines enthralling aesthetics with an intriguing medium-to-high volatility gameplay. Before plunging into this tempting realm, gamers should check the RTP, which stands at an astounding 96.2%. Slashimi enables bets ranging from 10 pence to £100 every spin, catering to a wide range of wagering tastes.
Intriguing Symbols: Feast on the Reels
The game grid, which features three reels each with five symbols and an incredible 125 chances to win, takes center stage in this Japanese culinary tour. Lower-value symbols resemble maki-style 10 to Ace card symbols, while higher-value icons depict precisely prepared sushi portions. Winning combinations can result in winnings ranging from 0.1x to 0.5x the bet. The wild symbol, which appears on all reels, replaces all pay symbols and pays 1x the stake for a three-of-a-kind combination.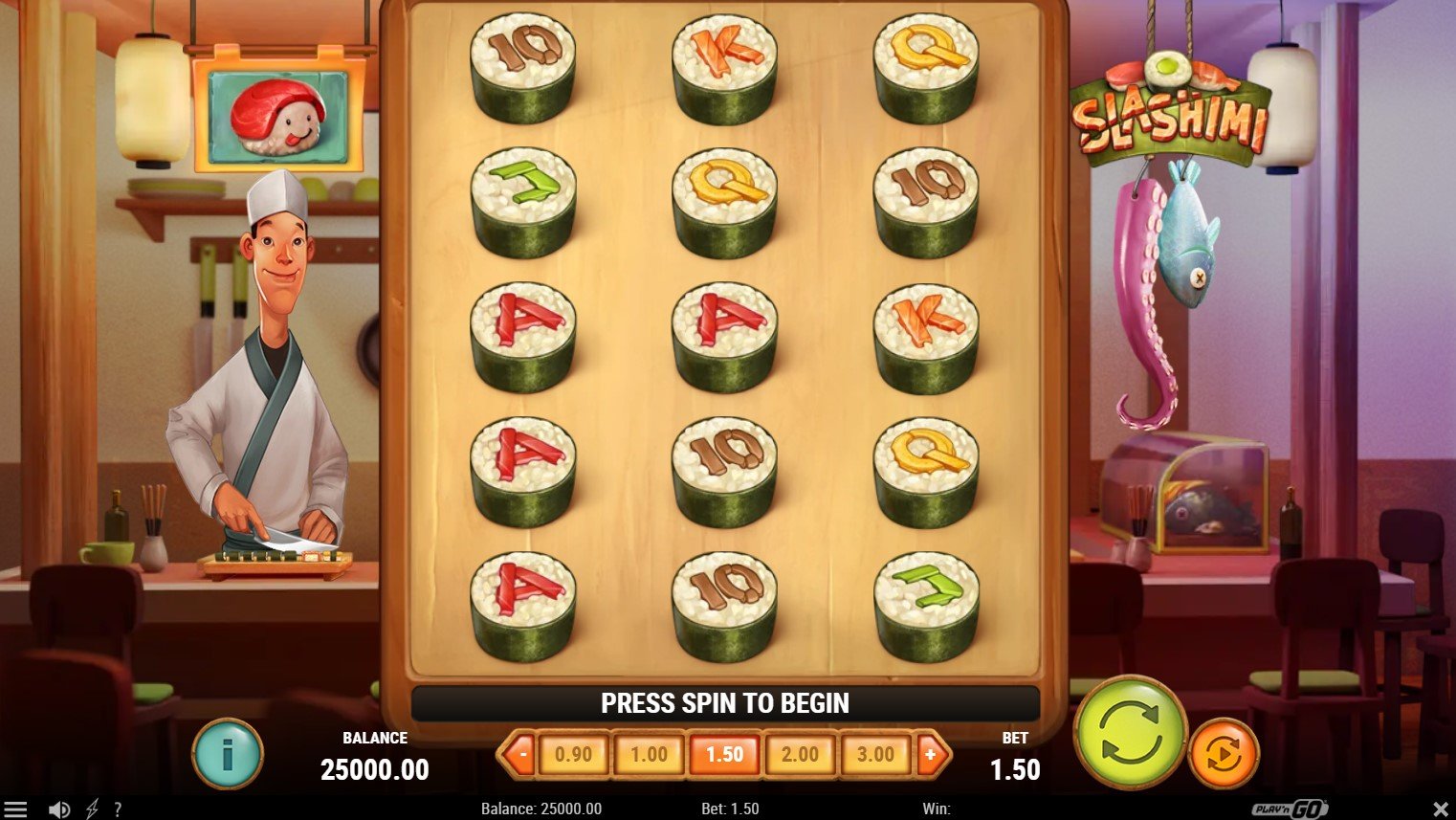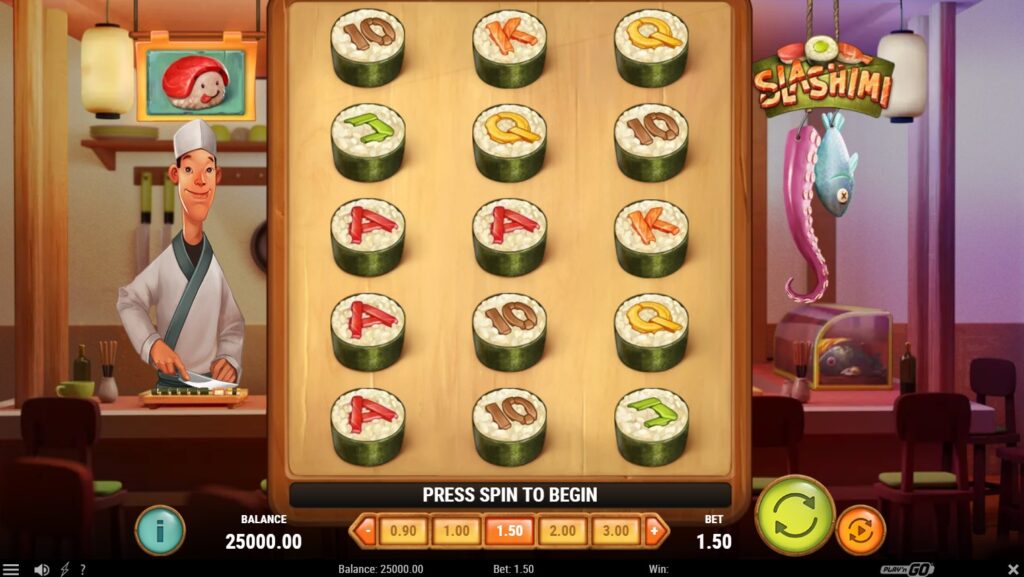 Unraveling Features: The Two-For-One and Free Spins
Slashimi's charm extends beyond its visual attractiveness. The "Two-For-One" feature is the game's highlight feature, a unique splitting symbol dynamic that increases the possibilities for victories. For each spin, a box over the chef's head shows a random pay sign. When this chosen symbol lands on the grid, it splits into two, thus doubling its count for the winning evaluation and perhaps boosting the number of winning ways to 1,000.
Another major draw is the Free Spins feature, which is triggered by hitting three bright wasabi symbols and awards the player with four free spins. Prior to the spins, players select a symbol that will split whenever it appears throughout the free spins round. To add to the excitement, these selected symbols remain locked in position on the game board until the free spins are over.
Final Thoughts: A Delicate and Satisfying Slot Experience
Slashimi by Play'n GO, although a tribute to the growing popularity of sushi throughout the world, is a breath of fresh air in the world of online slots. Its distinct concept, interesting features, and alluring aesthetics set it apart. While its bonus rounds appear to be brief, the powerful Two-For-One feature guarantees that the rounds are filled with excitement and promise. In essence, Slashimi is not a full-fledged feast, but it is a delicious nibble with the possibility for significant wins of up to 5,000 times the stake. A must-play for everyone looking for a subtly complicated and graphically appealing slot gaming experience.