Excalibur Unleashed™: Battle for Glory, Unleash the Power of the Sword!
Pragmatic Play's Excalibur Unleashed™ is an online slot game that takes players on an enthralling trip into the land of Arthurian tales. This aesthetically appealing game provides interesting features, entertaining gameplay, and the possibility for large rewards with its unique animal take on the medieval theme. Let's look at the many components of Excalibur Unleashed™ and see what makes it unique.
Visuals and Symbols
Excalibur Unleashed™ by Pragmatic Play is a graphically striking slot. The game grid is set in a tranquil glade and has a 5-reel configuration structured in a 3-4-4-4-3 pattern. A golden light shimmers around the grid, a hazy treeline serves as a backdrop, and a vibrant rabbit jumps through the grass, bringing a touch of charm to the picture. The decision to anthropomorphize the characters, with a mouse and an owl as the primary heroes, adds a distinctive touch to the game, but this may be a question of personal preference.
Excalibur Unleashed™'s emblems effectively portray the medieval concept. Along from the traditional 10-A royals, high-paying symbols include crowns, potions, crystal balls, and the animal heroes themselves. When these symbols create winning combinations on the 20 paylines, they give various rewards, adding to the thrill of each play.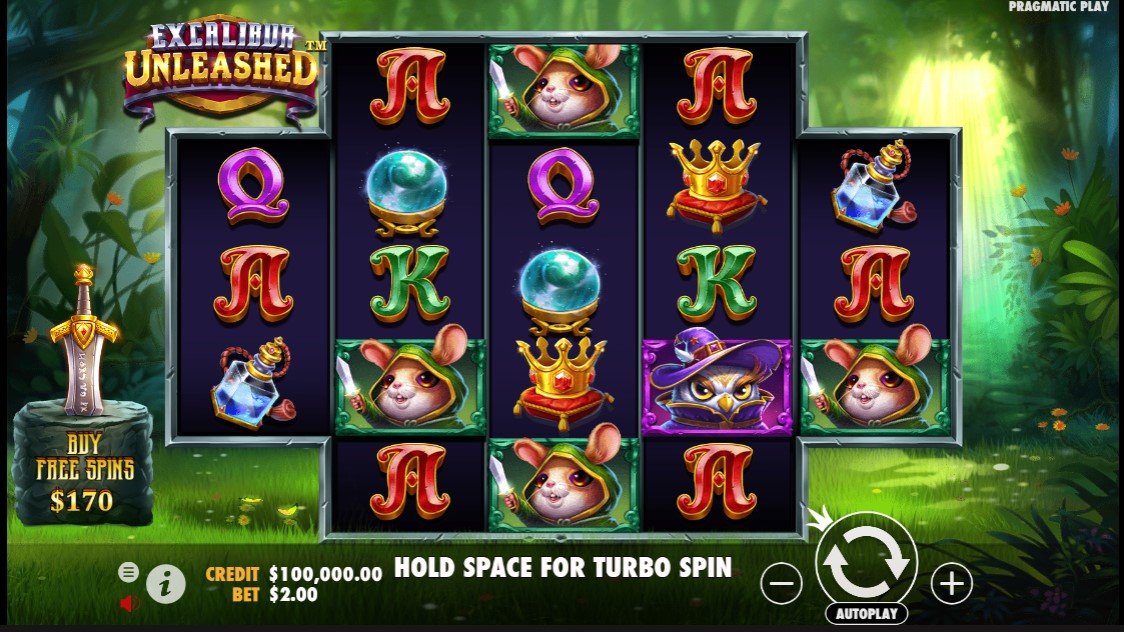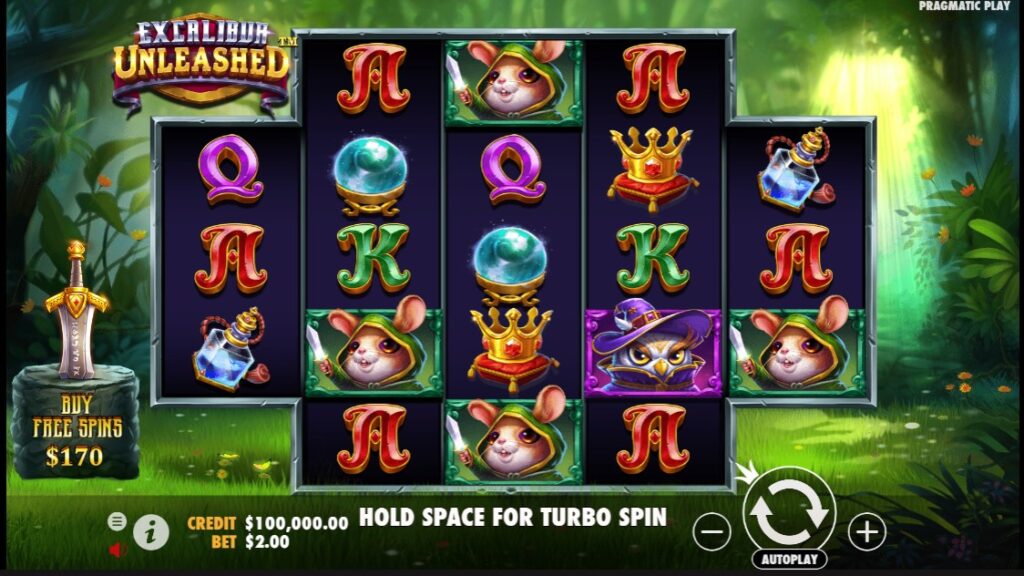 Features and Gameplay
Excalibur Unleashed™ has a number of features that improve gameplay and increase winning possibilities. Full reel wilds, which appear on reels 1 and 5 during the base game, are important features. When a wild symbol lands, it expands to span the full reel and awards a random multiplier ranging from x2 to x20. These wild multipliers increase your chances of winning big, and if numerous wilds contribute to a winning combination, their multipliers are compounded.
The free spins bonus round, which is activated by expanding wilds on reels 1 and 5, awards six free spins at the start. The triggering wilds remain sticky during this round, covering their respective reels and increasing their multiplier value by +1 with each victorious spin. If both wilds appear in a winning combination, an extra free spin is granted, boosting the possibility for massive winnings even further.
RTP and Volatility
During the basic game, Excalibur Unleashed™ has a strong Return to Player (RTP) percentage of 96.05%. When the bonus round is purchased for 85 times the wager, the RTP reduces slightly to 96.02%. The volatility of the game is evaluated as high, offering exciting and possibly lucrative gaming. While players may encounter periods of low winnings and dead spins, the prospect of receiving huge jackpots of up to 5,000 times the bet adds a level of excitement.
Final Thoughts
Excalibur Unleashed™ by Pragmatic Play is an exciting and graphically appealing gaming experience. The game's distinctive animal interpretation on Arthurian stories brings a new angle to the well-explored medieval topic. Excalibur Unleashed™ offers players several chances to win big with its full reel wilds, growing symbols, and escalating multipliers. While the volatility may not be for everyone, the possible prizes and fascinating gameplay make this slot a decent pick for those looking for exhilarating reel experiences.