Dive into the world of Big Bang Boom, and let its fiery essence captivate your gaming soul!
Pros
Unique and immersive neon-themed design
Variety of innovative features like Super Bombs and Expanding Reels
Versatile betting options, ranging from 25 p/c to £/€100 per spin
Adaptable 'ways to win' system offering up to 10,000 ways
Cons
Lacks wild symbols, a feature many players appreciate in slot games
High volatility may not suit players who prefer consistent small wins
Some resemblances to other slots, reducing its uniqueness to a degree
Attention, slot enthusiasts! Get set for a blast of unparalleled gaming excitement with NetEnt's explosive creation: Big Bang Boom. Renowned for their mastery in online slot crafting, NetEnt's latest offering guarantees exhilarating moments and monumental wins, and here's our in-depth dive into it.
Aesthetic Appeal and Atmosphere
Right off the bat, Big Bang Boom grabs attention with an ambiance that echoes Hacksaw Gaming's Chaos Crew. Its neon-infused palette and a soundtrack fusing punk with EDM transports players into a whirlwind of rebellious energy. This game not only boasts an alluring title but also ensures an immersive gameplay experience to back it up.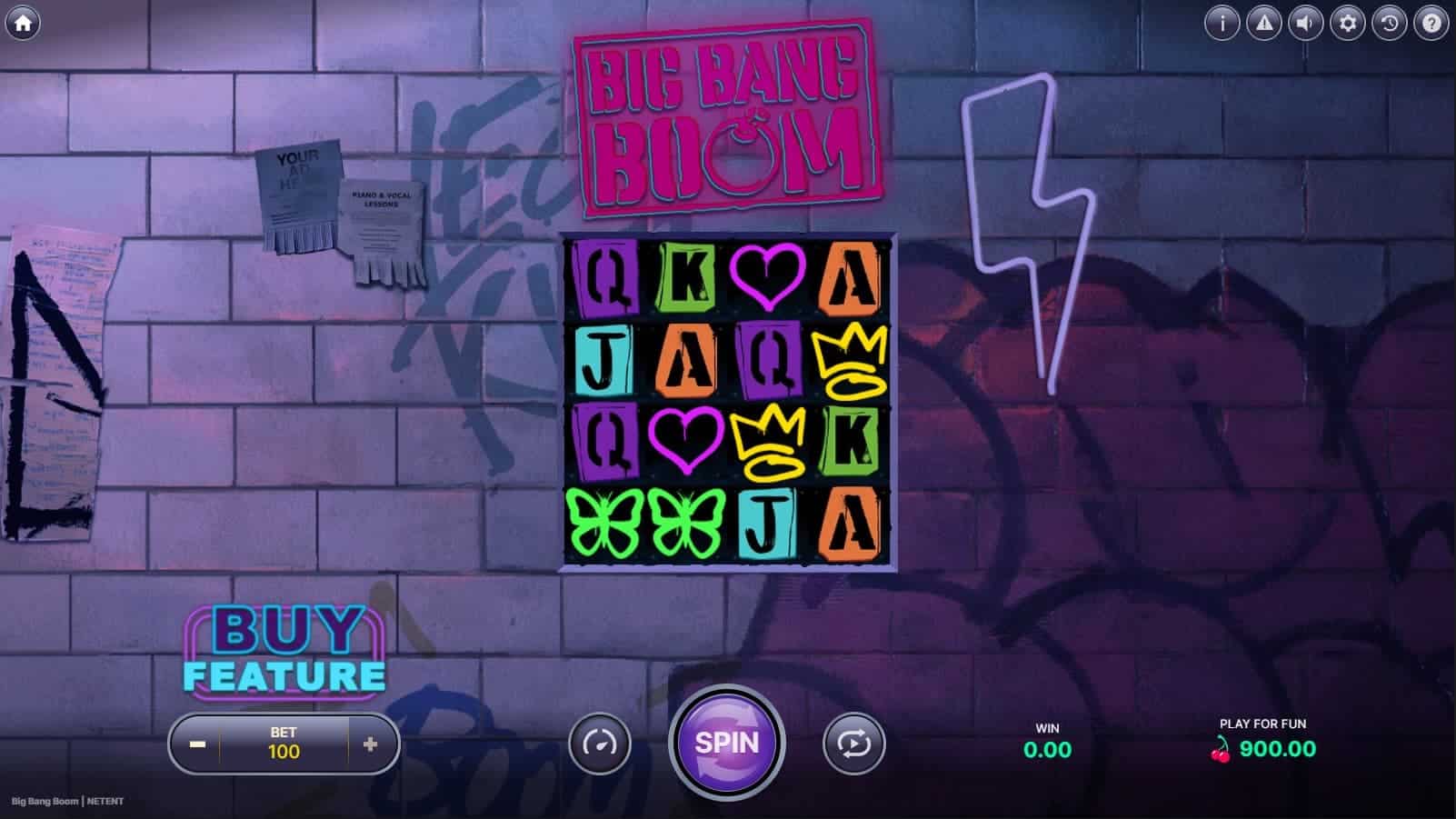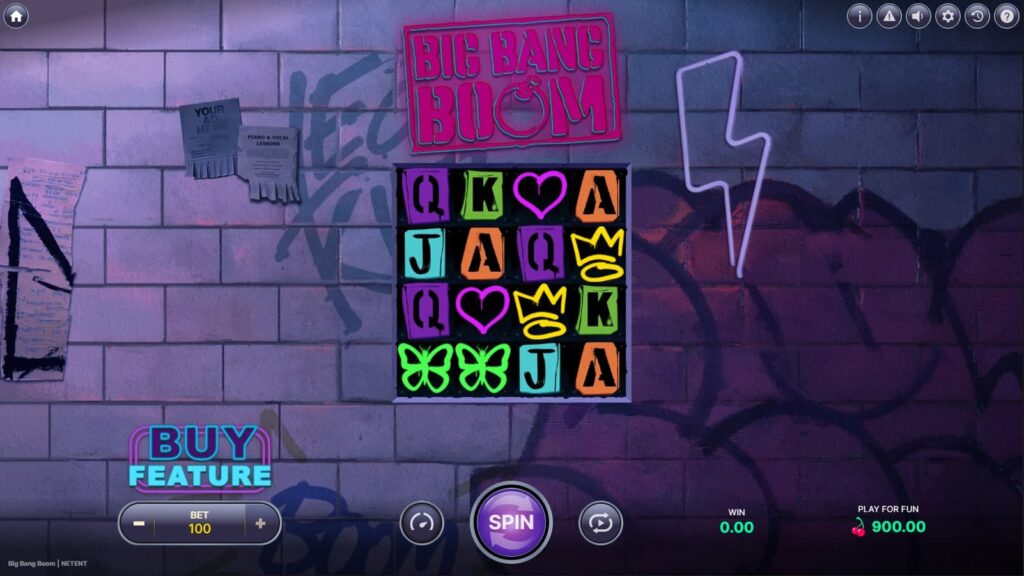 Unraveling the Grid Mechanics
Kicking off with a base 4×4 layout, the slot introduces a 'ways to win' mechanism, expanding winning possibilities from an initial 256 to a staggering 10,000! Although the stakes are high, a promising RTP of 96.07% hints at bountiful rewards. Bets range from a modest 25 p/c to a hefty £/€100 per spin, catering to varying risk appetites. And for those itching for immediate action, there are two enticing bonus buy options.
Significant Symbols to Spot
Base Value Symbols: With an edgy stencil design, the standard card symbols from J to A reward between 0.16 to 0.2 times your stake for a four-of-a-kind (4 OAK) combination.
Top-tier Symbols: Delight in the game's premium offerings – a cheerful blue smiley, an elegant green butterfly, a romantic purple heart, and a majestic yellow crown. A 4 OAK here can yield between 0.4 to 1 times your stake.
Although wild symbols are notably missing, Big Bang Boom enriches the gameplay with its assortment of Bomb symbols, ensuring thrilling turns and twists!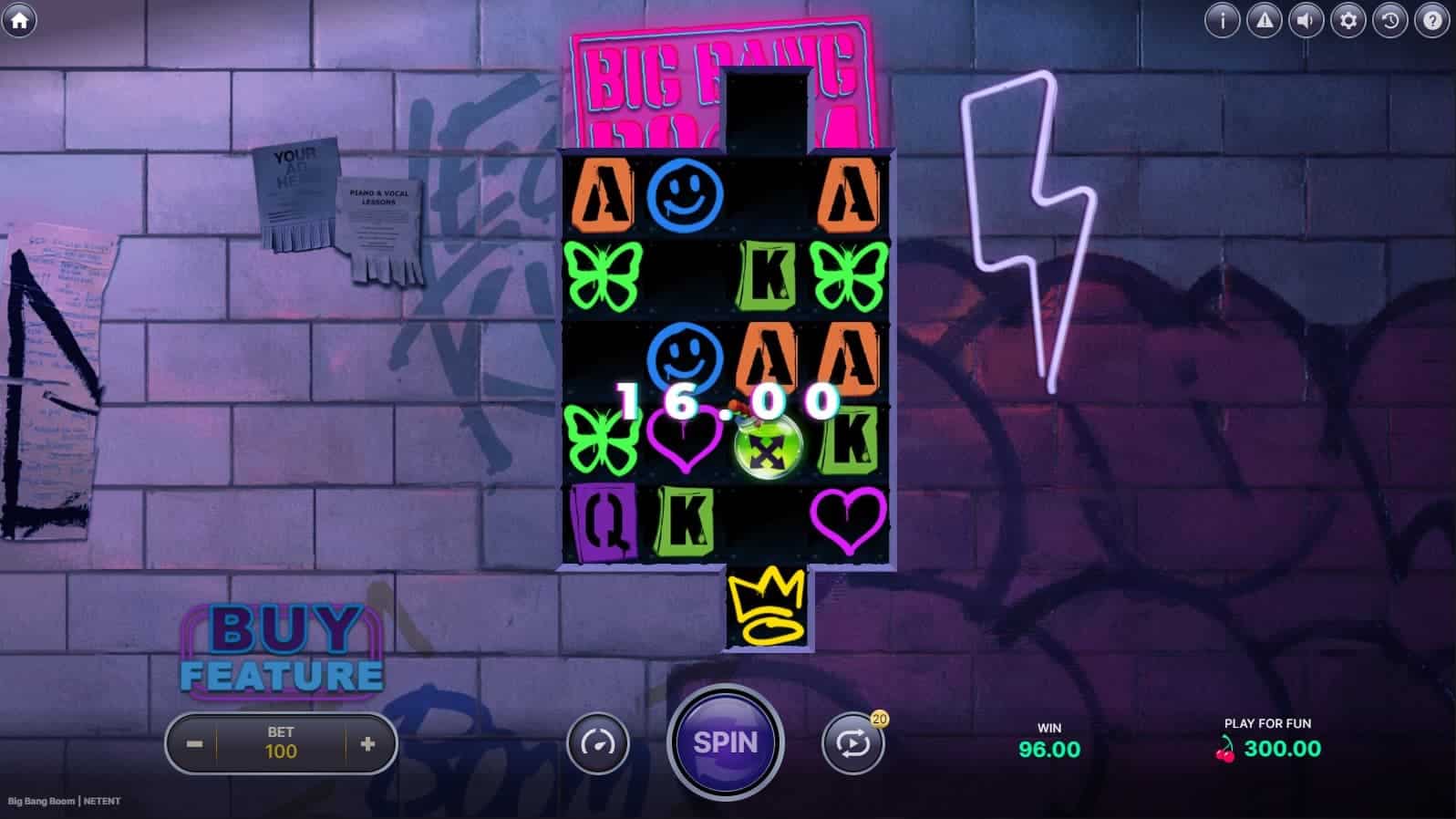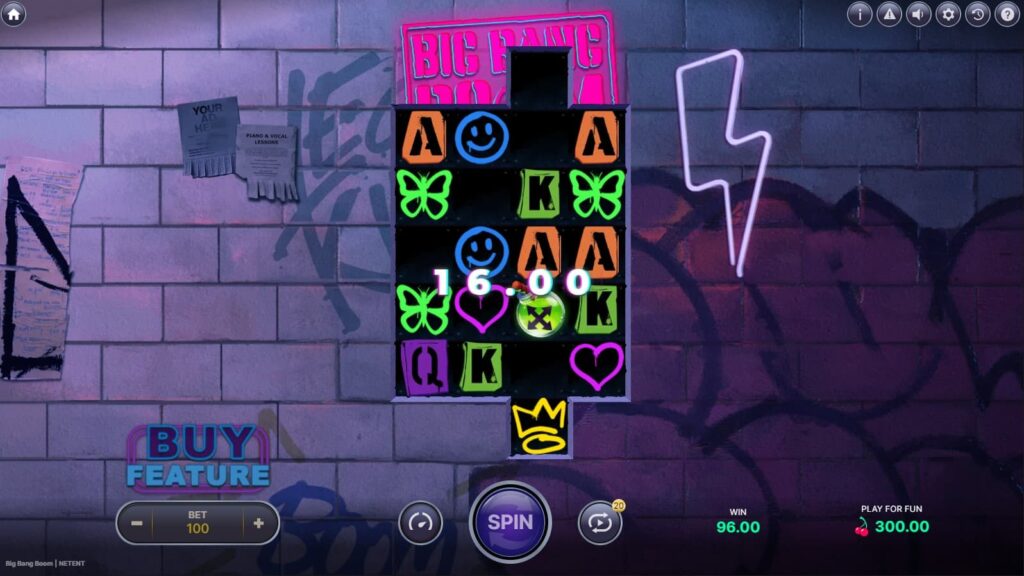 Array of Engaging Features
Expanding Reels: Secure a win or activate a bomb, and you'll reveal concealed rows both above and beneath, enlarging the playing field.
Avalanche Mechanism: Initiated by successful combinations or bomb activations, this feature clears winning icons, making way for new potential winning symbols.
Super Bombs Mechanism: A total of seven distinct bomb types are present, each boasting unique detonation patterns. From vertical and horizontal to diagonal and omni-directional, they ensure a thrilling gameplay experience.
Free Spin Rounds: Attain a full 10-position reel during the base game, and you're in for 6 free spins. This feature utilizes an extendable grid packed with an assortment of bombs and rewards that can amplify up to an impressive 2,048x!
Treasure Prize Mechanism: Unearth hidden treasure rewards as you disclose new positions, both in the base game and during free spins.
Instant Buy Mechanism: For the eager players, bypass the primary game to dive into 6 free spins or choose 6 free spins accompanied by a Persistent Bomb, amplifying winning chances. These come at a premium – 75 or 150 times your stake, respectively.
Concluding Thoughts
Big Bang Boom solidifies its position as a gem in NetEnt's portfolio. Drawing inspirations from legends like Nitropolis and Chaos Crew, it simultaneously offers a distinct, explosive charm. While the maximum win of 4,300x might leave some wanting more, its inventive features and unmatched vigor make it a must-play. Amid a vast sea of slot options, Big Bang Boom manages to distinguish itself, striking a balance between simplicity and intricate elements, stirring fond memories, and promising an unforgettable gaming journey.