Unleash the Mystery, Ignite Your Wins – Mayan Magic Wildfire Awaits!
Pros
Engaging Mayan-themed graphics and immersive backdrop
Balanced medium volatility and an RTP of 96.04%
Maximum win potential of up to 1,264 times the stake
Broad device compatibility, including mobile and tablet
Cons
Lack of a dedicated free spins feature
Mayan Magic Wildfire emerges as a captivating slot game developed by the innovative NoLimit City. Game whisks players away to the heart of a south-American rainforest, setting the stage against the backdrop of the enigmatic Mayan civilization. The game's ambiance is further enhanced by a picturesque waterfall, offering a visually stimulating experience.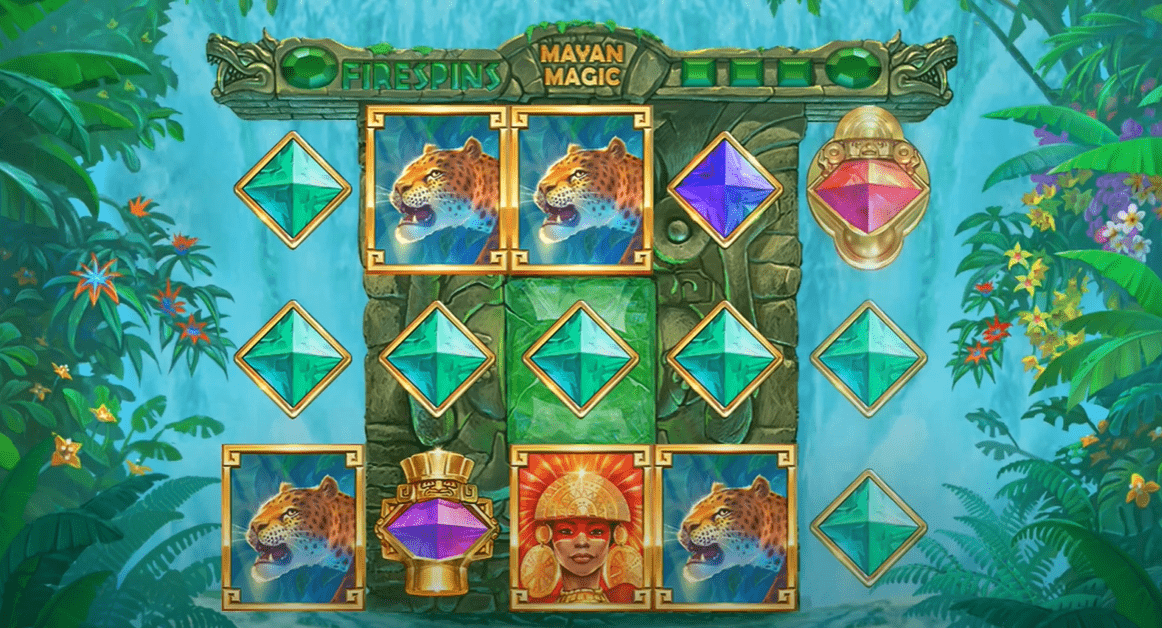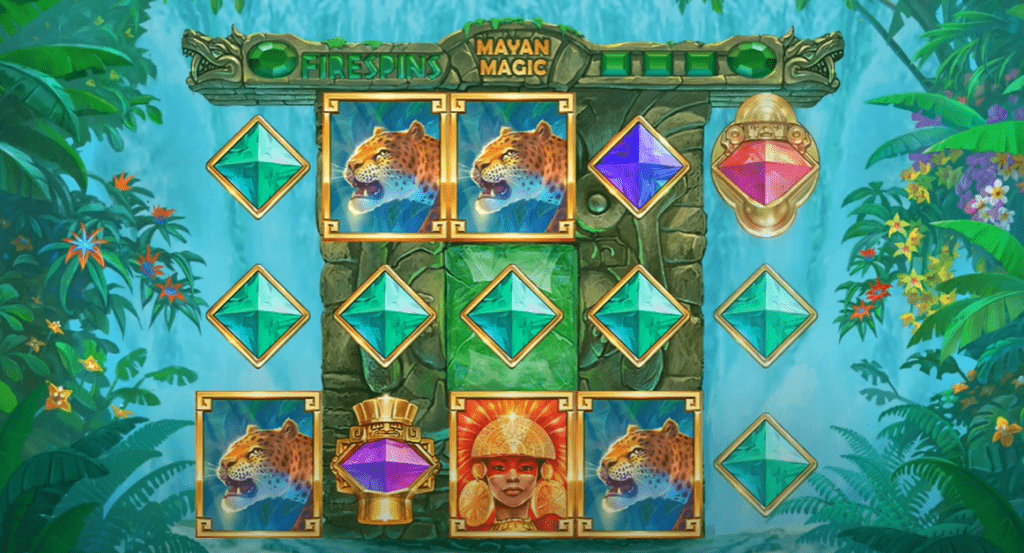 Overview of Graphics and Design
The design of Mayan Magic Wildfire is a testament to NoLimit City's attention to detail. Players find themselves immersed in a rainforest environment, with the reels set against a stunning cascading waterfall. The game's symbols, including the Mayan Queen, King, Shaman, and a serpent, are crafted to reflect the rich Mayan culture. This graphical excellence, coupled with the lush greenery framing the reels, creates an engaging and visually appealing gaming experience.
Gameplay Mechanics: Reels, Rows, and Winning Ways
Mayan Magic Wildfire has a classic 5×3 reel structure that offers the player 10 different ways to win. This structure ensures that the game is accessible yet challenging and appeals to a wide range of slot enthusiasts. The betting range is versatile and allows for stakes of up to $/€/£100, making the game suitable for both casual players and high rollers. The game mechanics are simple yet engaging and provide an exciting gaming experience with every spin.
How to Play: Strategies and Valuable Combinations
Playing Mayan Magic Wildfire is an intuitive experience. Players aim to match symbols across the 10 paylines to secure wins. The most valuable symbols include the Red Mayan Queen, Purple Mayan King, Blue Mayan Shaman, and the Snake, each offering substantial payouts for combinations of five. For instance, landing five Red Mayan Queens on a payline rewards players with 20 times their stake. Additionally, the game features lower-value gemstone symbols, adding more opportunities for wins. The gameplay is balanced to provide both frequent smaller wins and occasional bigger payouts, catering to a variety of gaming preferences.
Bonus Features and Special Symbols
Mayan Magic Wildfire is not only a visual treat, but also a treasure trove of fascinating bonus features and special symbols. These elements provide additional excitement and the potential for significant winnings.
Mayan Wilds
The heart of Mayan Magic Wildfire's allure lies in its Mayan Wilds. Activated by landing a wild symbol on the middle three reels, this feature not only awards re-spins but also turns the center position on the middle reel into a sticky wild. This sticky wild remains throughout the entire feature, enhancing your chances of striking lucrative combinations. Additional wilds bring extra spins and an increasing multiplier, amplifying the thrill and potential rewards.
Mystery Sync
Mystery Sync is a randomly triggered delight that synchronizes the symbols on the three middle reels. This synchronization is not just a visual spectacle but a gateway to potentially substantial wins, especially considering that the slot pays both ways. It's a feature that can turn an ordinary spin into a remarkable win unexpectedly.
Mystery Wild
Equally spontaneous is the Mystery Wild feature, which can activate on any spin. The symbol in the middle of the middle reel turns into a wild, and all matching symbols on the middle reels also turn into wilds. This can lead to the activation of Mayan Wilds, often starting you off on a high note with multiple wilds in play.
Absence of Free Spins: A Unique Approach
​Mayan Magic Wildfire breaks with tradition by not offering a special free spins feature, but this is hardly a disadvantage. The game's focus on re-spins, which are triggered frequently, makes up for this. The regular occurrence of these re-spins keeps the game dynamic and engaging.
Jackpot and Maximum Win Potential
In the absence of a progressive jackpot, Mayan Magic Wildfire still holds the promise of substantial payouts. The maximum win potential stands at a noteworthy 1,264 times the player's stake. For those betting at the upper limit of £100, this translates to a potential windfall of £126,400 – a sum that is quite impressive for a game of medium variance.
RTP, Volatility, and Hit Frequency
The Return to Player (RTP) of Mayan Magic Wildfire is set at 96.04%, aligning it with industry averages and ensuring fair play. Its medium volatility strikes a harmonious balance between the frequency and size of wins, suitable for players who enjoy steady gameplay with occasional significant wins. The slot's mid-volatility is complemented by a decent hit frequency, particularly of its features, ensuring that the gameplay remains exciting with regular occurrences of wilds and re-spins.
Player Feedback and Game Reception
The response to Mayan Magic Wildfire from players has been overwhelmingly positive. Gamers praise its engaging theme and the frequency of the bonus features, especially the innovative Mayan Wilds and the spontaneous Mystery features. The balance of medium volatility and fair RTP rate has been well-received, catering to a wide range of slot enthusiasts. Some players have noted the absence of a dedicated free spins round, but the compensatory re-spins feature often overshadows this aspect. Overall, Mayan Magic Wildfire is commended for its immersive experience and balanced gameplay.
Compatibility with Mobile and Tablet Devices
In today's mobile-centric world, NoLimit City ensures that Mayan Magic Wildfire excels in compatibility. The game is optimized for seamless play on both mobile and tablet devices, maintaining its graphical fidelity and gameplay mechanics on smaller screens. Whether on Android or iOS, the game performs flawlessly, allowing players to enjoy the mystique of the Mayan theme from anywhere, at any time. This level of detail and optimization signifies NoLimit City's commitment to providing a versatile gaming experience.
Mayan Magic Slot Video