Strike Gold with Heist for the Golden Nuggets – Where Every Spin Could Lead to Your Next Big Score!
Pros
Eye-catching and immersive graphics, creating a thrilling atmosphere
Offers a broad range of bet sizes, accommodating various types of players
Smooth gameplay and fast-paced action keep players engaged
High RTP (Return to Player) ratio promising a good potential return
Unique special features, such as the "Lock and Respin"
Cons
The high volatility of the game could lead to significant losses before big wins
The game might not appeal to those who prefer classic, straightforward slot games
May require a significant time investment to truly benefit from the game's features
Oh boy, is Heist for the Golden Nuggets a game-changer. As soon as you open it up, you're thrown into an immersive Wild West landscape, reminiscent of old cowboy flicks. The well-executed graphics, the animated characters, and the fitting soundtrack all come together for a top-notch gaming experience. Let's break this down:
Graphics and Animation: High-quality, engaging, and as golden as the nuggets you're chasing.
Soundtrack: A perfect match to the theme, enough to transport you to the wild wild west.
Playing the Field
The game runs on a 5×3 grid with 20 paylines – a straightforward layout that's easy to get the hang of. But don't let its simplicity fool you. The game's volatility is high, and it comes with a solid RTP of 96%. It's these aspects that add an element of excitement to the gameplay.
Gameplay Layout: Simple, intuitive, yet exciting.
Volatility: High. A rollercoaster of wins and losses, keeping you on the edge of your seat.
Return to Player (RTP): At 96%, it's a promising prospect for the ambitious players out there.
The Golden Prospects
I can't help but mention the winning possibilities here. The game offers a 5,000x the bet win cap, which had me glued to my seat. There's nothing quite like seeing the value of your golden nuggets soar, especially with the unique 'Nugget Value' feature. Add to that the wild multipliers, and you've got a recipe for some major wins.
Winning Potential: 5,000x the bet win cap – it's a lure hard to resist.
Special Features: The 'Nugget Value' feature and wild multipliers work like magic.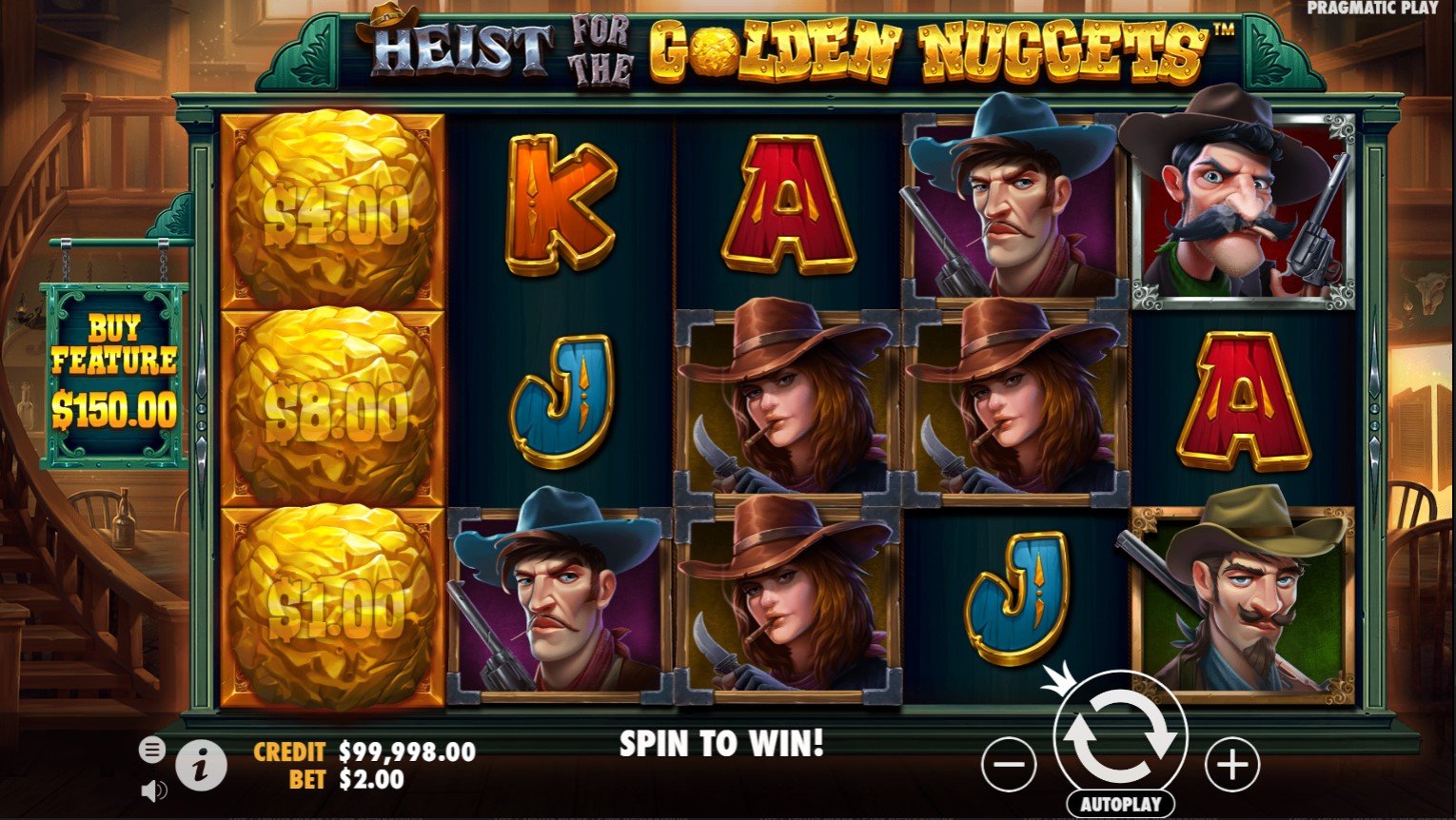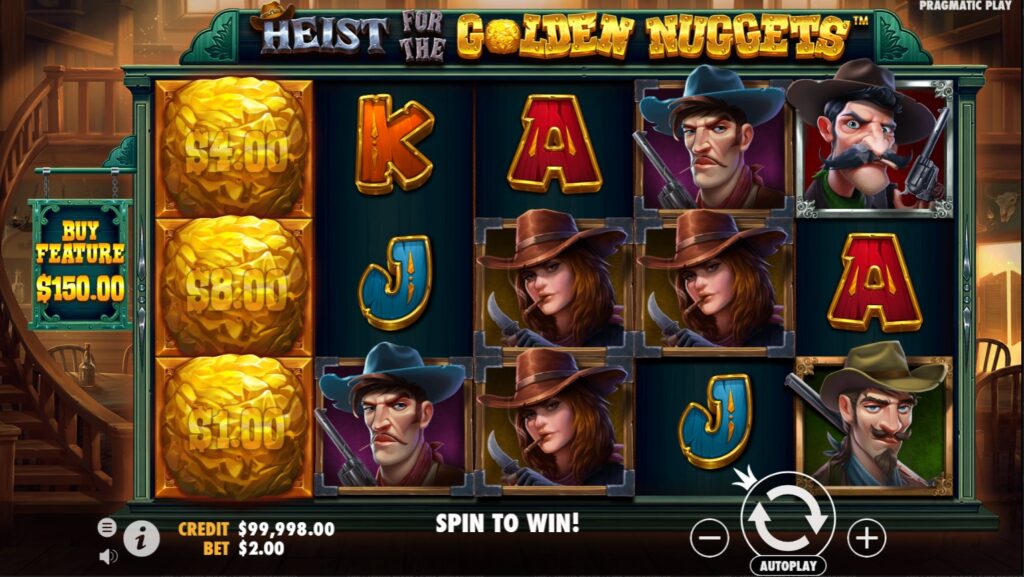 A Few Dusty Corners
Now, as is the case with anything, there are a few areas where the game could improve. While its simplicity is an advantage for some, for those who love strategic gameplay, it may come off as a little too straightforward.
Also, the betting range is not very flexible. Starting at 20p/c and going up to £/€100 per spin might be restrictive for both low-stakes players and high rollers.
Gameplay Strategy: May feel too simple for those seeking strategic depth.
Betting Range: Starting at 20p/c and ending at £/€100 per spin, it may not suit all kinds of players.
Striking the Final Note
To sum up, Heist for the Golden Nuggets is an entertaining and thrill-inducing game that doesn't disappoint. Yes, it has its little snags, but the thrilling wins, the adventure of the gold hunt, and the sheer fun of the gameplay make it well worth it. Some days you strike gold, and other days you don't, but isn't that what makes it all the more exciting? Go on, give it a spin and feel the rush!