Country Farming: Spin the Reels, Reap the Rewards!
Pros
Big potential payouts
Variety of exciting features
High-quality farm aesthetics
Unique Jackpot Symbol
Up to 10,000x the bet
Cons
Jackpots hit infrequently
Possibly slow pace of play
My first impression of Country Farming was of its visually appealing aesthetic. The scenic rural backdrop, complete with windmills, red barns, and tractors, creates a relaxing and immersive gaming environment. The lively farm animals add an extra layer of charm, providing a refreshing departure from the typical neon-clad, city-themed slots I've often come across.
Diving into the Gameplay: Strategy and Thrill
I found Country Farming to be a game of skillful betting, providing a range of options from 20 p/c to £/€100. The opportunity to purchase the free spins bonus round at 100 times the stake presented a compelling chance for daring players. The game has a high volatility rating, which means it's geared more towards those who aren't afraid of risk, potentially leading to high rewards. However, the slightly lower return value in feature buy mode (96.06%) as compared to regular mode (96.07%) might be a deterrent for some.
The 5-reel, 3-row grid with 20 paylines offered an engaging playing field. The regular pay symbols, all farm-themed, and the dog acting as the wild symbol, brought about the exciting potential for significant returns. The game could benefit from a few more varied symbol designs to keep the gameplay visually interesting.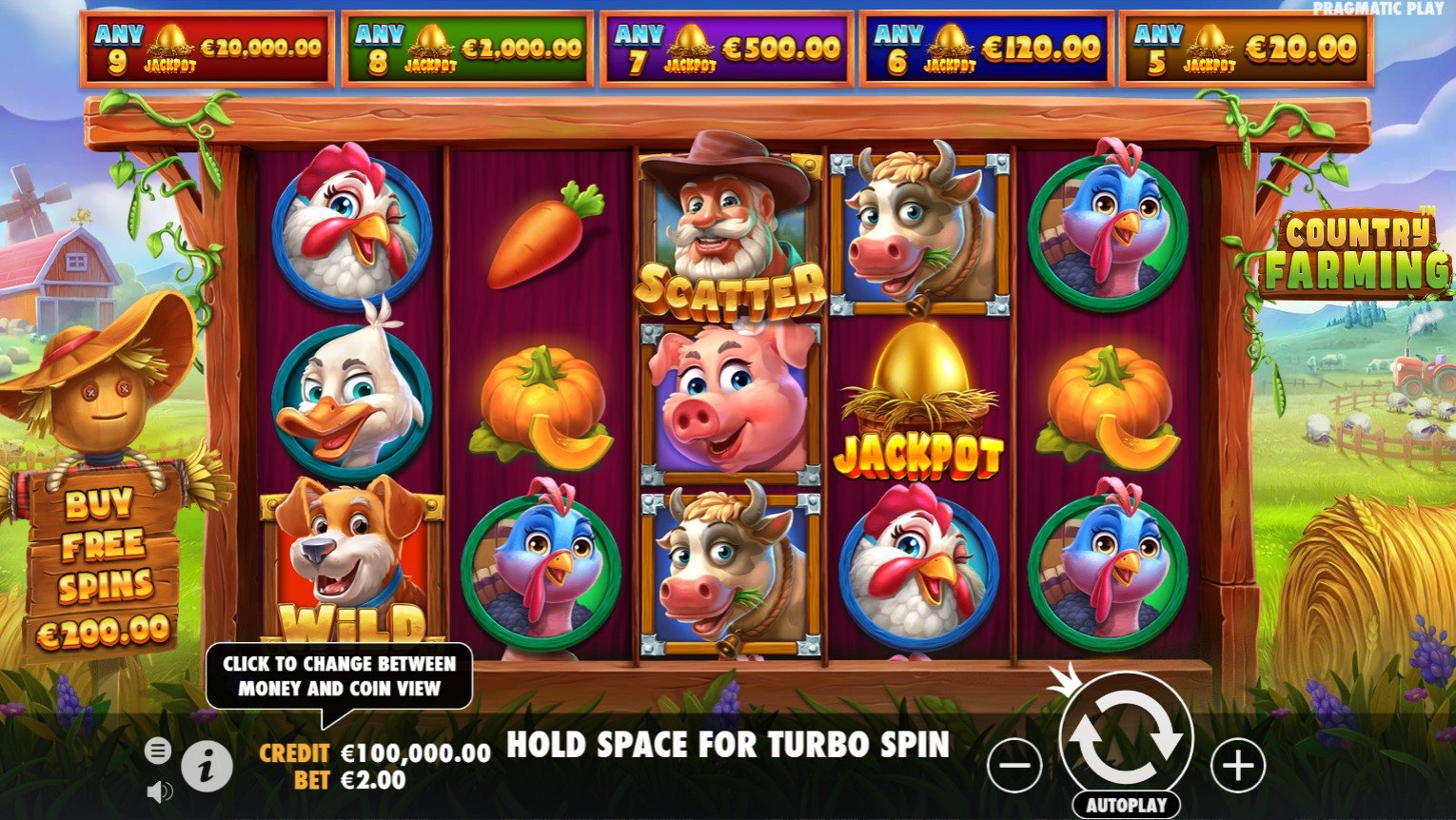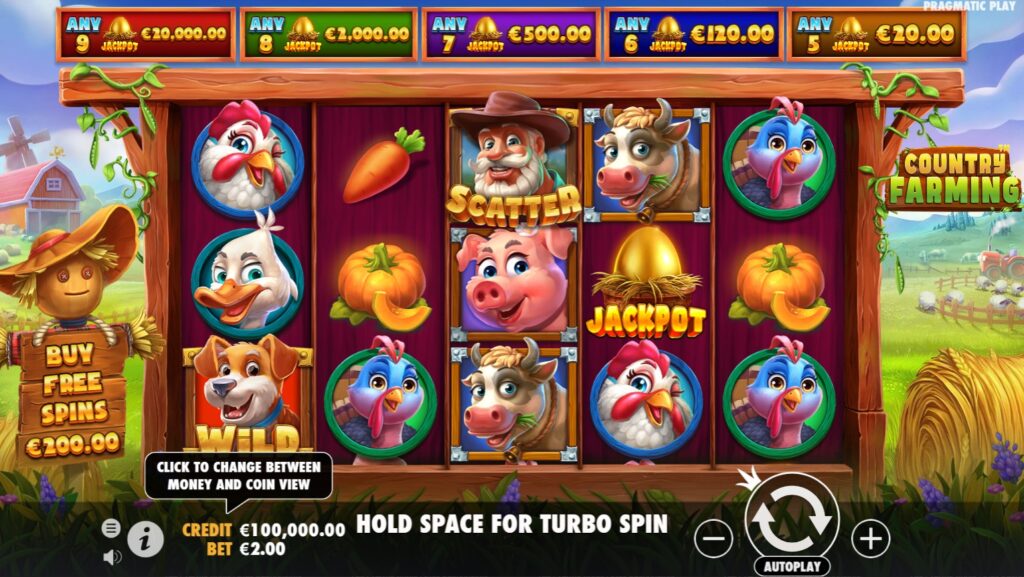 Enticing Special Features: Simplistic Yet Satisfying
What impressed me about Country Farming was the simplicity of its features, yet they kept me engaged throughout. The game offers:
Mystery Symbols: These symbols transform into a regular pay symbol after the reels stop spinning, providing an element of surprise.
Fixed Jackpots: Landing at least 5 Jackpot symbols gives an instant money bonus, with payouts varying from 10x to a massive 10,000x the bet.
Free Spins: Upon hitting 3 farmer scatter symbols, you're awarded 10 free spins, with the possibility of a Jackpot Wild symbol appearing.
These features provide a straightforward way to win, making the game accessible even to beginners. However, the Jackpot symbols could appear a bit more frequently in the base game to enhance the game's excitement.
Comparison with Other Slots: A Unique Experience
Country Farming stands out among other farm-themed slots I've played. A similar game, Rabbit Garden, offered a more complex gameplay experience with a coin symbol feature. However, Country Farming maintains a more traditional, straightforward slot style, which can be appealing for players looking for a classic slot game. I appreciated the simplicity, but some might find it lacking in innovative gameplay features.
Conclusion: An Enriching and Fun-Filled Experience
Country Farming offered a delightful gaming experience with its captivating visuals, thrilling gameplay, and the potential for sizeable rewards. The rural charm combined with the engaging gameplay made it a refreshing choice in the sea of online slot games. However, the somewhat infrequent Jackpot and scatter prize wins could be a downside for those who prefer consistent rewards. Nevertheless, the thrill of chasing high rewards combined with the tranquil, farmyard environment made Country Farming a memorable and worthwhile slot game for me.