Unleash the Genie's magic for a chance to turn wishes into jackpots with every spin!
Pros
Offers an abundance of bonus features and modifiers
Offers a potential maximum win of up to 10,000 times the stake
Fully optimized for mobile play
Demo Version Available
Cons
Lower-tier bonus games may not pay out as much as players hope
The maximum bet of $/€10 per spin may not appeal to high rollers
Embark on a magical carpet ride with Blueprint Gaming's enchanting slot creation, Genie Jackpots Wishmaker. This game invites players into the mystical world of genies and Arabian nights, where wishes can turn into tangible treasures.
As the latest installment in the beloved Genie Jackpots series, Wishmaker promises to uphold the legacy of its predecessors while introducing a fresh wave of excitement and enchantment for both seasoned players and newcomers alike.
Genie Jackpots Wishmaker is a tapestry of vibrant reels and paylines, crafted with a classic 5×3 layout that serves as the canvas for your gaming adventure.
Overview of Genie Jackpots Wishmaker
Game Aesthetics and Design
Genie Jackpots Wishmaker whisks you away to a realm where the opulence of the Arabian Nights comes to life. The game's design transports players to a lavish Arabian tent, replete with golden-framed reels and a treasure trove of riches that set the stage for fortune-filled adventures.
The graphics are a vibrant tapestry of colors, with animations that add a dynamic flair to every spin. Accompanied by an authentic soundtrack, the rhythmic beats and melodies complement the visual feast, ensuring a fully immersive experience that captivates the senses.
Betting Options and RTP
Jackpots Wishmaker caters to a wide audience, offering a flexible betting range that starts at a modest 10p/c to $/€10 per spin, welcoming casual players to partake in the magic without the need for a sultan's ransom.
The game's Return to Player (RTP) stands at a competitive 96.06%, striking a balance between generous payouts and engaging gameplay. This, combined with a medium volatility model, ensures that the slot strikes a harmonious chord between frequent smaller wins and the thrilling chase for the game's bountiful jackpots.
Symbols and Payouts
The reels are adorned with symbols that echo the enchanting theme, from the lower-valued royal insignias J-A, which carry a hint of Arabian elegance, to the higher-value icons like magical books, treasure sacks, and bejeweled turbans.
Each symbol is crafted to contribute to the narrative of opulence and magic. The game's logo and the flying carpet wilds are the stars of the show, offering substantial rewards that can turn a simple spin into a tale of riches.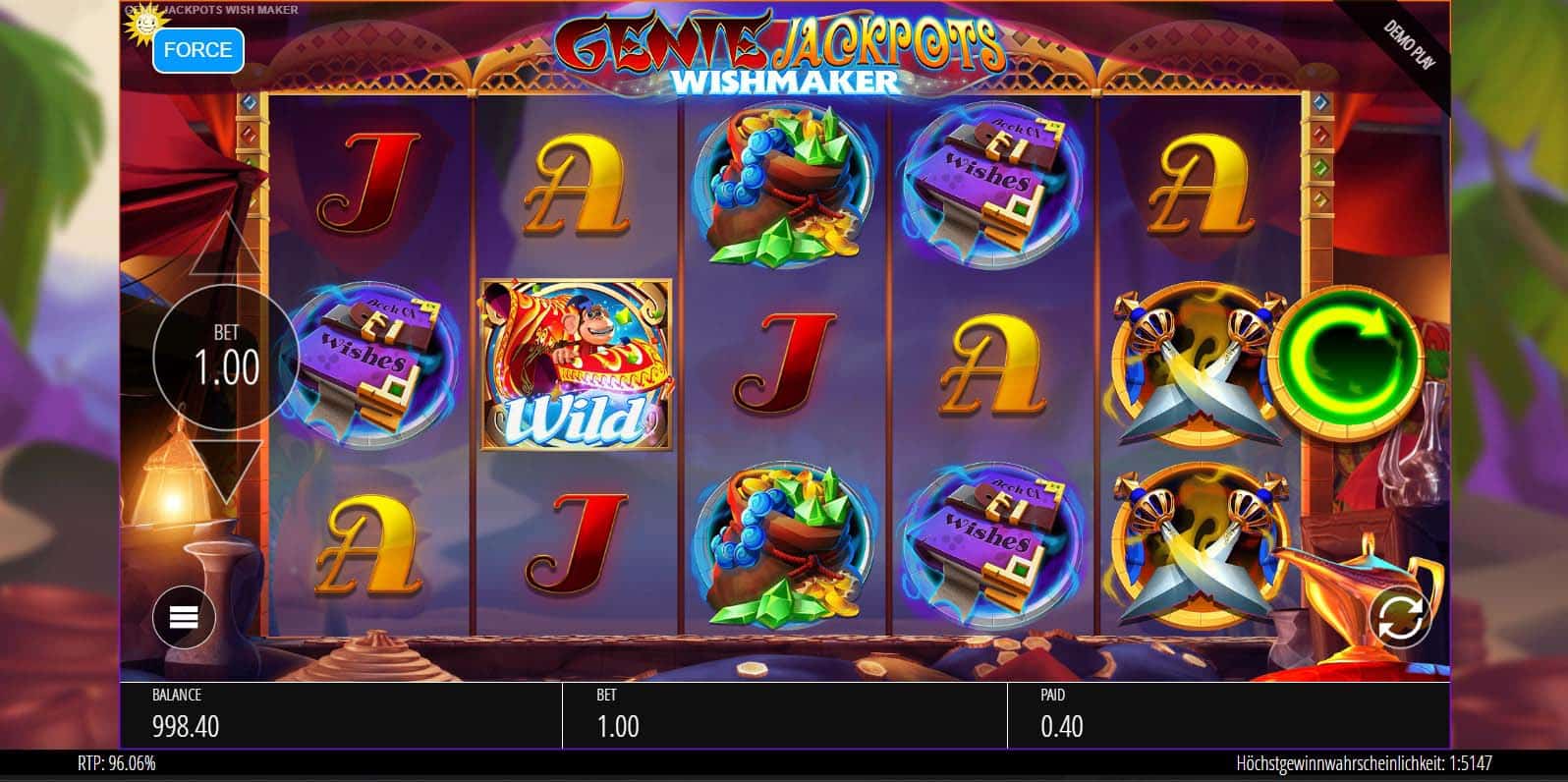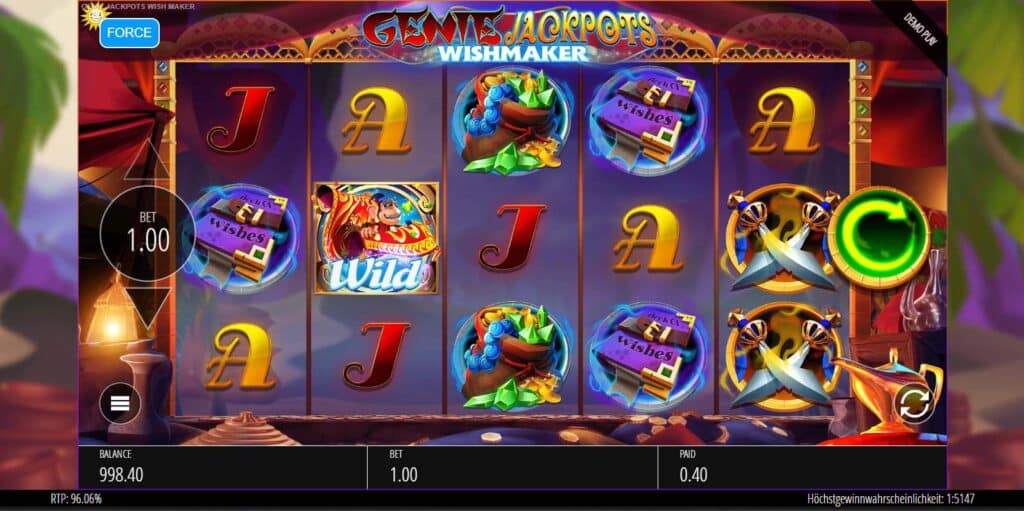 Special Features and Bonuses
As hinted at before, the game brims with a variety of features and modifiers, ensuring that there's rarely a monotonous moment in play. With the launch of The Goonies slot, Blueprint has demonstrated their mastery in delivering genuinely thrilling gameplay experiences. In the standard game, you have the chance to activate one of the seven modifiers at any given spin, which can occur unexpectedly. When this occurs, a Genie leaps onto the reels, presenting you with three lamps to choose from. Make your selection carefully, you get just one chance, and once chosen, one of the seven potential results will unfold:
Colossal Genie – the initial three reels merge to create giant symbols that are 3×3 in size.
Infectious Monkey Wilds – monkey wild symbols have the ability to propagate, transforming adjacent symbols into wilds as well.
Mystery Wishes – the Genie places numerous mystery symbols on the reels, which then all change to reveal the same identical symbol.
Genie Win Spin – the Genie snaps his fingers to ensure the following spin results in a win.
Genie Wilds – the genie appears on the playing field, scattering a random assortment of wilds.
Bonus Boost – additional bonus symbols are interspersed among the reels to enhance the likelihood of activating the bonus game.
Genie Streak – symbols that form a winning combination are held in place, initiating a re-spin. Additional identical symbols that appear are also locked in and prompt further re-spins, continuing until no new matching symbols land or the grid is completely filled.
Genie Jackpots Wishmaker is a treasure chest of features, each one a testament to Blueprint Gaming's commitment to engaging and innovative gameplay. The slot is brimming with bonuses that can appear at any twist in the tale, from wilds that dance across the reels to scatters that unlock the fabled Genie's Wishmaker Bonus Wheel.
This wheel of fortune could be your ticket to one of the many enthralling bonus features, each with its own path to glory and gold. Whether it's through free spins, multipliers, or one of the many other mystical modifiers, Genie Jackpots Wishmaker is set to provide a gameplay experience that is as unpredictable as it is exciting.
Let's talk more about the bonuses that Genie's Wishmaker Bonus Wheel opens.
Magic Carpet
In the Magic Carpet feature, participants select lamps to disclose either a series of moves or the 'Collect' notice. These moves propel a monkey along a series of levitating carpets, each step providing a bet multiplier that can reach up to 40 times. The feature concludes when 'Collect' is revealed, but reaching the top of the carpeted staircase also grants access to the Genie's Big Money Bonus.
The Golden Touch
The Golden Touch feature initiates with five gratis spins, during which the Genie has the power to make up to five reels completely wild on each spin. If the Genie targets a reel repeatedly during a single spin, that reel turns into a wild multiplier. In this feature, players have the opportunity to achieve multiplier wins of up to 243 times.
Genie's Wild Storm
Genie's Wild Storm grants 10 complimentary spins. Throughout this feature, every genie wild that appears creates a frame in its position. On the concluding spin, all these frames are populated with either wilds or wild multipliers of up to 5 times. Within this feature, it's possible to achieve multiplier wins that can reach as high as 3,125 times.
The Big Money Bonus
The Big Money Bonus features a spinning wheel with bet multipliers. Players select scrolls to uncover either 'Respin', which prolongs the game, or 'Collect', which concludes the feature. In this segment, it's possible to win up to 1,000 times the placed bet.
Lucky Wishes
Lucky Wishes begins with three re-spins on a grid that exclusively shows symbols for instant cash prizes. Each time a new cash symbol appears, the re-spins are reset to three. The feature concludes either when re-spins decrease to zero, or when the grid is filled, which then activates the Genie's Wishmaker Bonus. This bonus can result in a cash increase, a multiplier of five times, or a retrigger of the feature.
Sultan's Jewels
In this game, participants choose from twelve chests to uncover monetary rewards or keys. The play proceeds until the Collect icon is uncovered. Unearthing three keys throughout the game triggers a bonus enhancement.
Each feature in Genie Jackpots Wishmaker is a chapter in an epic tale of chance and enchantment. For the players who seek more than just a spin, this slot offers a narrative woven with excitement, anticipation, and the allure of the unknown.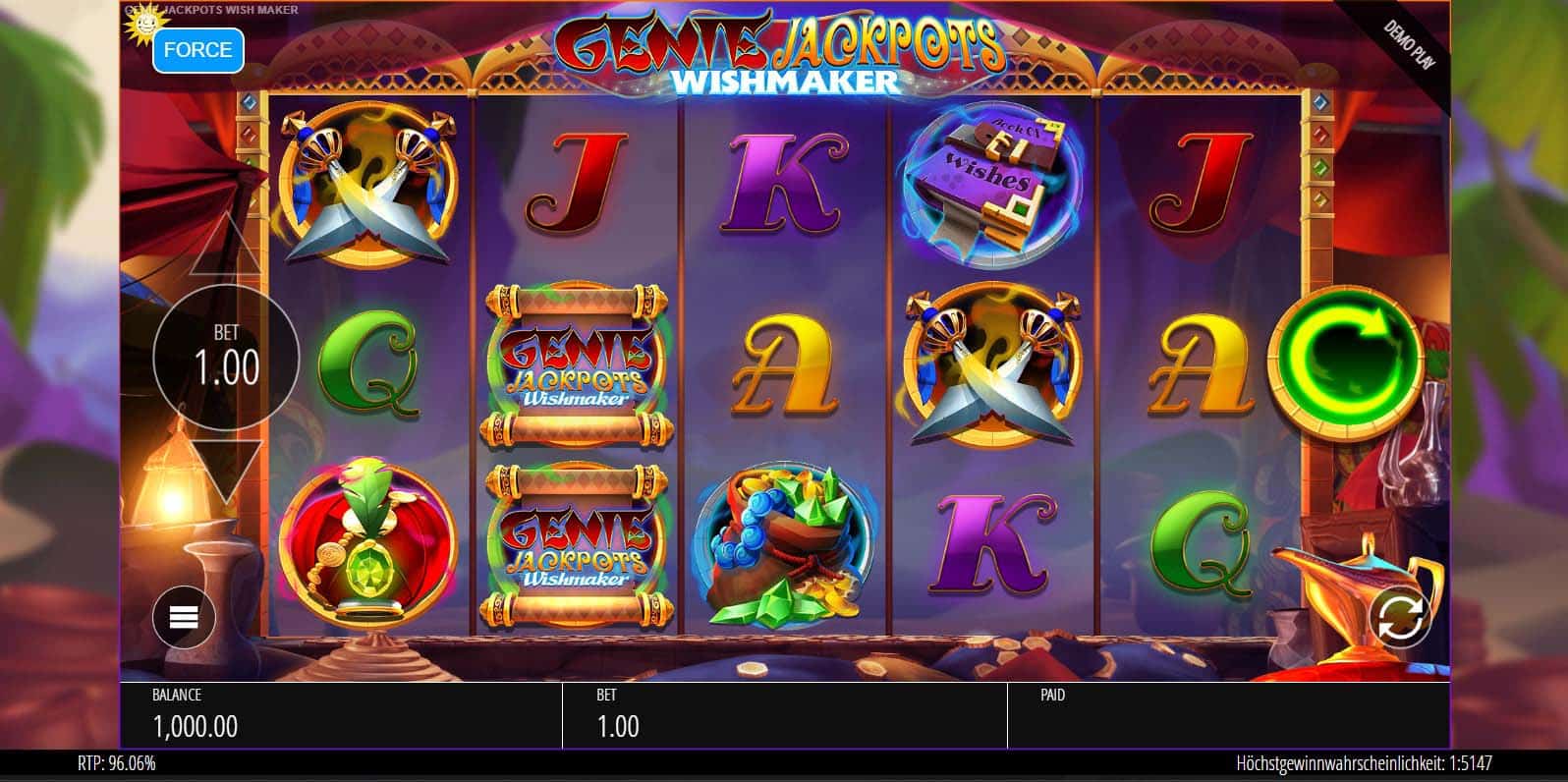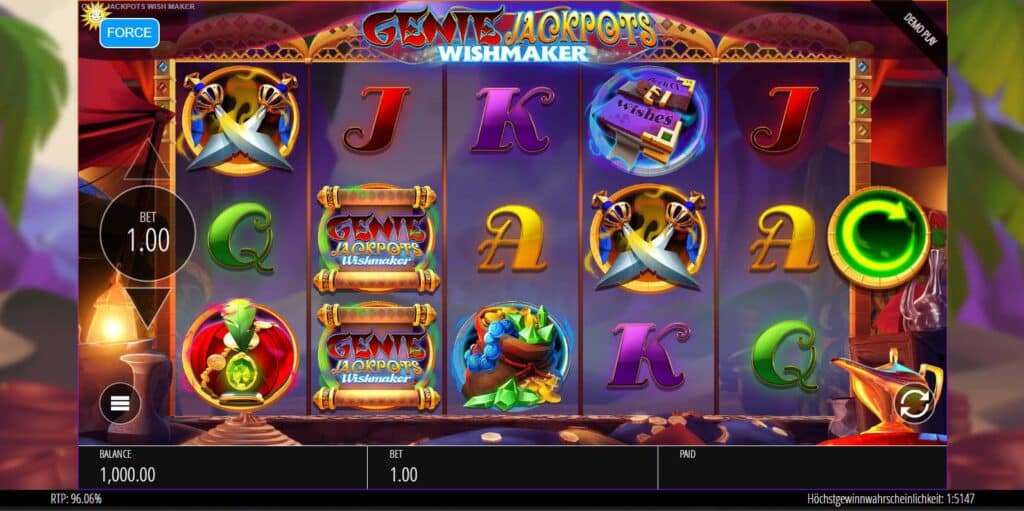 Real Money Play and Demo Version
Genie Jackpots Wishmaker caters to both the cautious apprentice and the daring master of slots. Players can embark on a no-risk adventure with the demo version, a perfect playground to familiarize oneself with the game's nuances without wagering a dime. When ready, the real money realm awaits, where the thrill of each spin is amplified by the stake at hand.
User Interface and Mobile Compatibility
The game's interface is a seamless blend of functionality and thematic beauty, ensuring that players are immersed in the experience without being overwhelmed by complexities. Mobile compatibility is a given, with the game's magic carpet smoothly flying across various devices, ensuring that your quest for riches can continue on the go.
Final Verdict
Genie Jackpots Wishmaker is a slot of high spirits and higher potentials, with a jackpot that could turn wishes into reality. This slot beckons the dreamers, the hopeful, and the lovers of lore. It's tailored for those who seek more than just a spin – they seek a story. The game's medium volatility makes it a welcoming oasis for players of varying experiences and strategies. The game's overall potential tops out at 10,000 times the stake.
For those drawn to the allure of Arabian nights and the promise of a Genie's power, Genie Jackpots Wishmaker is a must-play. It's recommended to approach the game with a balance of caution and courage, as the slot, like any genie, is unpredictable in its generosity.