This junglelicious adventure will take you to a special place where Loco (the monkey) lives. It's a green haven full of exotic plants and clean air, plus an abundance of yummy pineapples, bananas, mangos, and blueberries. A feast for the eyes as well as the belly.
And Loco isn't the only ape in town, there's also a special golden monkey to befriend… get three on the reels to trigger the Free Spins bonus.
This fun-filled 4×5 slot with 50 lines include a Monkey Frenzy! Free Spins bonus and a More Monkeys! Respin feature – and the chance to win over 6,829x bet!
Release date: January 12th
Game id: locothemonkey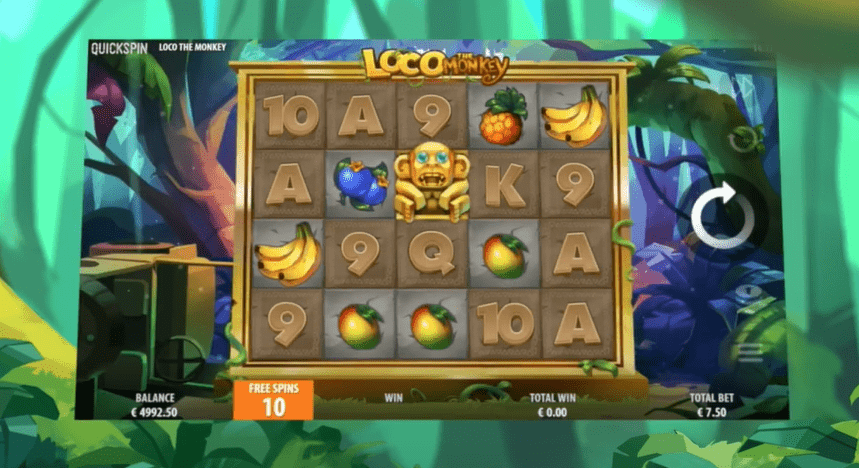 More Monkey! Respins
When you get four or more Wild Symbols on the reels in a single base game spin, it will trigger the More Monkeys! Respin feature.
During the Respin feature, the triggering Wilds will stay in their positions and the game respins reels 2, 3, 4, and 5. Any subsequent Wild symbols that land on the reels during the Respins feature will be held in position.
The Respins will continue until no new Wild Symbols land on the reels, and the win evaluation will occur when the feature ends. No Free Spins can be triggered during the Respin feature.
Monkey Frenzy! Free Spins
When you get 3 Bonus Scatter Symbols, it will trigger the Monkey Frenzy! Free Spins bonus with 10 free spins!
All Wild Symbols are locked for the duration of the Monkey Frenzy! Free Spins, so any Wild Symbol that lands on a locked Wild Symbol will upgrade the locked symbol by a multiplier of one. Locked Wild Symbols can have a maximum multiplier of 3.
3 Bonus Scatter symbols landing in a single spin will award 5 additional spins. Bonus Scatter symbols are only present on reels 1, 2, and 3.
Locked Wild symbols supersedes any other symbol. The line evaluation will take place at the end of each spin.
One day, Loco was driving down the narrow mountain road from his house. He was heading for the beach, with his daily ratio of bananas in the passenger seat.
Then suddenly, a huge bird came swooping in and grabbed all the bananas! He started chasing the feathered enemy, but he got so caught up in it that he didn't notice when the ground vanished beneath him. The car flew off the road and rolled down the hill until it landed at the bottom of the tropical forest.
Luckily Loco was ok, besides a few bruises. He might have hit his head though, as his eyes can go a bit crazy sometimes… but he seems happy. And he's decided to stay in the jungle, where he can eat as many bananas as he wants.
Loco the Monkey Slot Video