Rat King by Push Gaming – Seize the Throne, Rule the Reels!
Rat King from Push Gaming provides a unique opportunity to navigate the world of a rat that has ascended the ladder to become the head of its realm.
This realm is an abandoned candy factory after work hours. Push Gaming presents its first scatter paying slot in Rat King, a feature that has gained significant attention among software providers.
But doesn't this sound familiar? True, it resembles Sweet Bonanza in the scatter paying slot packed with sweets. Forget about the cotton candy clouds raining sweets, Rat King takes you back to the late 90s/early 00s with its pixelated graphics and bleep-bleep sound effects, creating nostalgia similar to Hellcatraz, Hellcatraz 2 Dream Drop, NFT Megaways, and Flame Busters.
Rat King offers three feature buy options, with a base bet range of 10 p/c to £/€100. Players can opt to activate the Push Bet, which boosts the stake by 20%. This bet improves the chances of triggering the bonus round and slightly increases the RTP from 96.3% to 96.35%. Furthermore, it enhances the possibility of hitting the max win. 
The game setup includes a 6×6 grid controlled by a medium volatile math model, triggering a reward when at least seven matching pay symbols are visible.
Rat King introduces special symbols, regular pay symbols, and Dud symbols. The regular symbols have monetary values while Dud symbols do not. These regular symbols range from six sweet items, with values from 0.5 to 2 times the bet for 7-8 OAK, up to 7.5 to 50 times the stake for 20 or more.
Dud symbols occupy valuable grid space but are removed when at least seven of them appear, allowing new symbols to fall into place.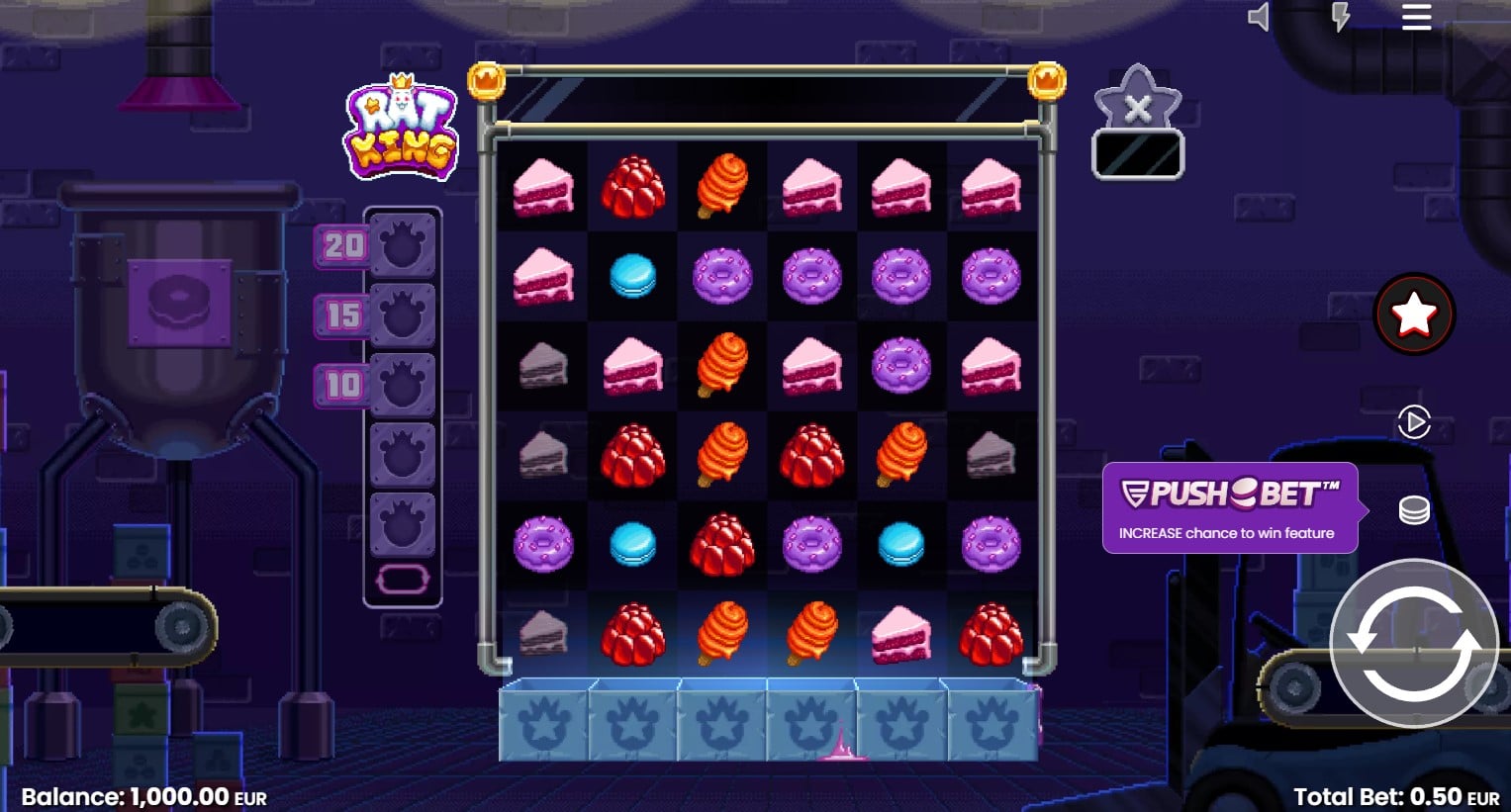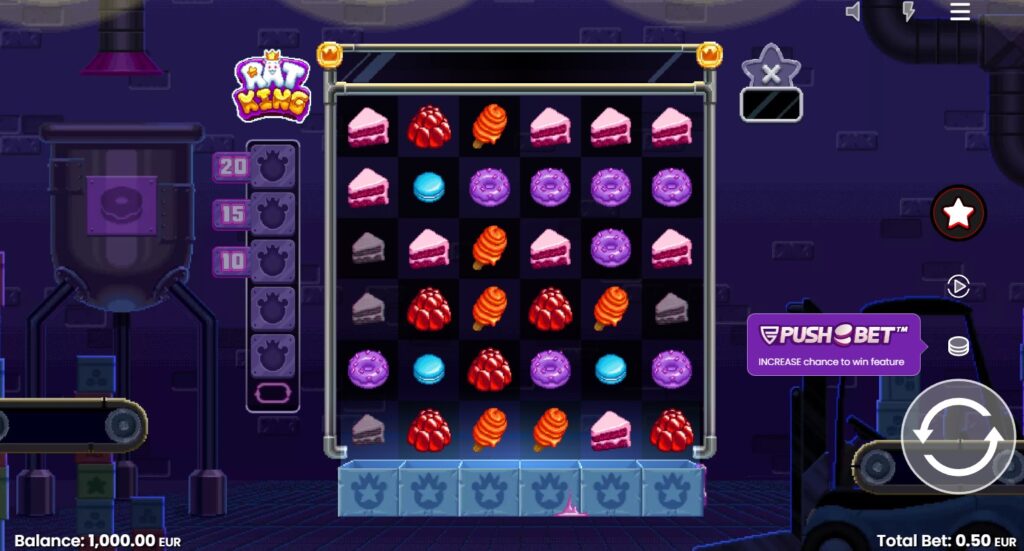 Exploring Features of Rat King Slot
Keep an eye out for Star symbols and Rat King symbols, both essential for triggering free spins and linked to Collection Boxes.
Collection Boxes & Star Symbols
Each reel has a Collection Box beneath it where Star symbols, representing multipliers from x2 to x500, drop. Once a Star symbol falls into a box, its multiplier value gets added to a counter, which then multiplies the current game round's win.
Free Spins
Rat King symbols also drop into Collection Boxes. Accumulating 3, 4, or 5 Rat King symbols rewards players with 10, 15, or 20 free spins, respectively. Collecting a Rat King symbol during these spins adds three more free spins. Meanwhile, collecting a Star symbol adds its multiplier to the counter, multiplying the total win for that spin. The counter remains inactive until another multiplier adds to it and does not reset.
Bonus Buy
Players are presented with three bonus-buy options:
3 Rat King scatters for 100x the bet with 96.58% RTP.
4 Rat King scatters for 250x the bet with 96.36% RTP.
5 Rat King scatters for 500x the bet with 96.93% RTP.
Rat King: A Final Take
Rat King marks Push Gaming's maiden scatter paying slot, delivered with their characteristic flair. While the retro theme may not appeal to all, it is gaining traction among casino game developers. Rat King smartly utilizes this style, transporting players back to the days of imaginative gaming, before the onset of hyper-realistic graphics and widespread VR.
Despite its nostalgia, Rat King isn't just a walk down memory lane but offers robust scatter paying gaming. While it has similarities to Sweet Bonanza, Rat King diverges through its gameplay modifications and striking visuals. The introduction of valueless Dud symbols and the need to drop Star symbols into buckets at the screen's bottom could feel a bit daunting. But given time, the unique quirks of Rat King could grow on you.