Maximum bonus amount 1000 EUR!
BONUS RECEIVE CONDITIONS
Confirm email and a phone.
No other active bonuses.
Deposit from 10 EUR to 49EUR to get +10% Bonus +25 FS.
Deposit from 50 EUR to 99EUR to get 15% Bonus +25 FS.
Deposit from 100 EUR and more to get +25% Bonus +25 FS.
Activate bonus in 24 hrs.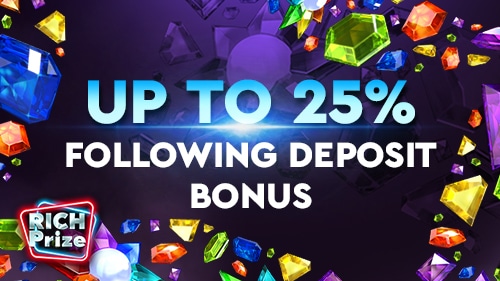 BONUS WAGERING CONDITIONS
For +10% Bonus x25 wagering applied
For +15% Bonus x30 wagering applied
For +25% Bonus x35 wagering applied
Free spins wagering x40 applied.
7 days to wager bonus.
Slots wagering allowed.
Slots wagering participation 100%.
Min bet 0.01 USD – Max bet 3 USD
Betting Games wagering not allowed.
Providers allowed for wagering: Limited
Player can cancel bonus at any time. Please note: Upon cancellation of the bonus the balance will be adjusted to the balance before bonus activation.
FUNDS WITHDRAWAL RESTRICTIONS
Maximum bonus amount 1000 EUR
Maximum withdrawal amount 1000 EUR if deposit above 100 EUR
Minimum withdrawal amount 15 EUR