In this upgraded take on another 2021 (already-) modern classic, Yggdrasil"s November release features everything that made Gator Gold Gigablox great and more!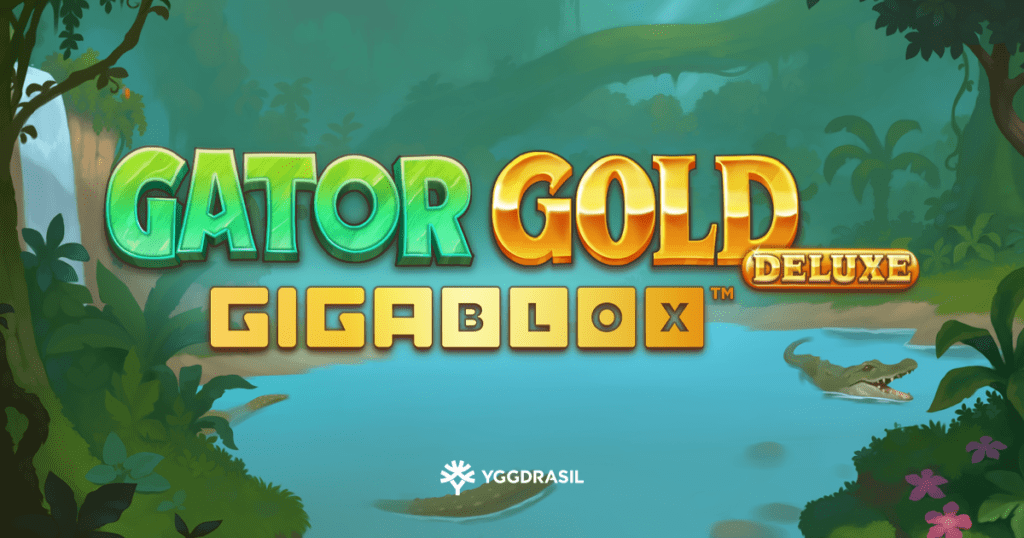 In addition to returning features, the game introduces an upgrade mechanic during Free Spins whichenable the player the possibility of upgrading all high paying symbols into the Super High Payer – The Mighty Golden Gator for some seriously searing wins.
On 25thNovember, the Gators are back.Get set to sink your teeth into a swamp of big wins in Yggdrasil"s latest Game Engagement Mechanic showpiece, Gator Gold Deluxe Gigablox !
Whilst these reptiles are sure to walk into some Gigablox success of their own,their GEM predecessors have shown how these unique symbols have sunk their teeth into the gaming industry and gone from strength to strength throughout 2021.
And they"re showing no sign of slowing either.
Beyond Yggdrasil"s core offering, the awesome win potential of Gigablox has seen the likes of ReflexGaming, Dreamtech, BulletProof Games, 4 The Player and Peter & Sons all queue up Q3 and Q4 releases containing this incredible game feature (not to mention Bulletproof Games" incredible July release contain veteran GEM: MULTIMAX ). And with 2022 right around the corner, expected to see a further aggressive expansion of this hotly sought-after Game Engagement Mechanic.
And speaking of aggressive, let"s get by to why we"re here.
In brief, Gator Gold Deluxe Gigablox is a 6×4 Video Slot with 4,096 way wins that pay out from the leftmost side to right. The game features 11 regular symbols, plus a Free Spin symbol that pays out scattered and a Wild symbol that substitutes all regular symbols.
Simple enough. Let's get into the nuts and bolts of it all!
FEATURES
Upgrade symbol
In Sports parlance, it's often said that you should always field your strongest team. With that in mind, let's set out with the standout feature of this toothsome reboot! Introducing the Gator Gold Deluxe Gigablox Upgrade symbol. It will only appear on the 6th reel in Free Spins feature. But when it does, just hold on to your hats.
Collecting 3 Upgrade symbols upgrades the all the current lowest high paying symbols on the reels to the next one in order of value. The highest possible upgrade is to the Gator Gold Super Symbol. If an upgrade symbol lands as a Gigablox it adds one for each slot position it covers to the collection. Multiple upgrades are possible in a single spin. The upgrade comes into effect on the same spin as the symbols land on the reels and lasts for the remaining Free Spins. How's that for deluxe?
And speak of the devil and he may appear …
Golden Gator Super High Pay Symbol
The first of the returning Gator"s gifts players can expect to find from this latest Yggdrasil release is the Golden Gator Super High Payers. This is a premium symbol that pays from 2-of-a-kind. The Golden Gator symbol pays out from landing just two symbols from the leftmost reel.
Gigablox
What"s in a name? Well, we know for sure this one is. In addition to the Golden Gator Super High Pay Symbol, Yggdrasil"s awe-inspiring Gigablox Game Engagement Mechanic returns also. Every game round, both in Free Spins and the base game, at least one Gigablox reel will be present combined reels of colossal symbols. Nice! For the uninitiated Gigablox are oversized symbols on the reels that function like individual symbols in a 2×2 to 4×4 formationfor some seriously mouth-watering wins. Any symbol including the Wild and Free Spin symbol can land as Gigablox . If a Multiplier Wild lands as a Gigablox , its multiplier is only applied 1 time.
Free Spins
Returning too come Gator Gold Deluxe Free Spins! Land five or more Free Spin symbols to trigger Free Spins. Each Free spin symbol that triggered the Free Spins mode will award 1-3 Free Spins. Each Free Spin symbol that lands on the reels in Free Spins adds 1-3 additional Free Spin. In essence, as long as the Scatter symbols continue to appear, the Free Spins can be triggered again and again. Free spins are played with the same bet as the activating spin.
Multiplier Wilds
The final returning features include two types of wilds: Gator Wild (which functions as a regular Wild) and Multiplier Wilds. The Multiplier Wilds multiply any win they are part of by the multiplier displayed in the symbol. However, it"s worth nothing that Wilds cannot land on the first reel. Multiplier Wilds multiply each other if they are part of the same Ways win for some truly blistering payouts.
Whilst in Free Spins, 2x and 3x Multiplier Wilds will be present on the reels during the entire of the Free Spins round making the win potential even higher.
There"s only one downside so to speak of. The Multiplier Wilds will only affect the wins they take part in. So a zig-zag line of Zebra, Leopards and Bison with a Multiplier Wild appearing on a non-participating line will not multiply the line win.